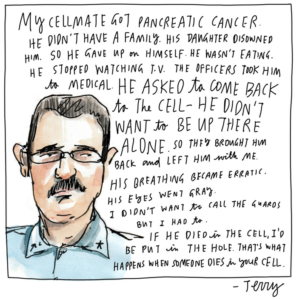 You know I probably could have broken up all the news into several posts, but I couldn't bear to not talk about any of the stuff that's on deck today. My apologies in advance is this is more than you wanted to read, or if a scarcity of news in the coming days means there's not much to discuss later in the week.
I received multiple packages of joy from the good folks at :01 Books since lasts we spoke, and it's going to be very weird to not credit the until-now omnipresent Gina Gagliano¹ for these review copies. :01 no longer being a one-person-per-job-function kind of place, it looks like Sophie Kahn is the one who sent out All Summer Long by Hope Larson, Animus by Antoine Revoy, and Speak by Laurie Halse Anderson (words) and Emily Carroll (pictures). Give me time to thoroughly read them, and we'll talk.

Additionally, I received a copy of Be Prepared by Vera Brosgol (previously received and reviewed here), which means I now have an extra. Which means that one lucky reader is going to get a copy of Be Prepared in the mail, with the sole requirement that they ensure at least one age-appropriate reader (say, a kid from 9 up) gets to read it when you're done. Pass it on, loan it out, whatevs … just make sure kids get to read it.

If you want to be considered, send an email to me (that would be gary) who is the editor at this blog (Fleen), which is a dot-com. You have until I wake up on 1 June 2018 to get your entries in. Be aware, you may set the book down more than once because of feelings and or cringes of recognition. These are not bad things.

It's tough to find any bit of positivity in the world of social media, but like some metaphor about something beautiful rising from the muck that I can't be bothered to construct right now, there's occasionally bits that restore your hope. So far today, I've seen three.

First, via Lucy Bellwood, a comics piece by Wendy MacNaughton about prisoners in the infamous San Quentin lockup confronting the reality that America's prison population — thanks to mandatory minimums and three strikes laws — has a rapidly graying population; there are a lot of incarcerated people who are elderly, sickly, and approaching the end of their lives.

Eight inmates — all lifers, which means we're meant to understand they are the worst of the worst — have responded by asking to create a hospice program so that their fellow inmates don't have to die alone. They aren't approved yet, but if there's any sanity in the prison-industrial complex, this will be approved and spread to other facilities yesterday.

Second, from Scott McCloud, a note that comics and medical care seem to be overlapping to a growing degree (cf: Cathy Leamy, who uses comics for medical education and outreach), and a pointer towards the newest instance he's noticed.

Therapy Comics is tackling the problems that arise when mental care services (in this case, in England) rely on a baseline level of literacy and facility in English; whether because those in need of services speak other languages, or because whatever prompts the need for mental health care keeps them from communicating effectively, comics can help provide interventions without relying on language.

The practitioner behind Therapy Comics, Michael Safranek, has so far provided resources for improving sleep hygiene, dealing with panic disorders, and learning progressive muscle relaxation. Safranek's asking for feedback, so if you think you could use some help in any of these areas, or if you're well-versed in how to build effective comics, give them a good reading and let him know your thoughts.

Thirdly, from many, many people, a thread by Steve Lieber of Helioscope Studio in Portland on how to give art critiques that is the best I've ever seen. It focuses on what the person seeking feedback needs (both in terms of what the reviewer sees in the work and what the reviwee identifies as the direction they want to take their work).

It mostly boils down to a small — but crucial — bit of empathy at the beginning: We only have a little time, so I'm going to talk about what I see that needs improvement in your work, but that doesn't mean everything is wrong. Show me your best, tell me what kind of work you're seeking, who do you emulate or look to for inspiration? The rest is a set of principles that Lieber applies to himself as he looks through the portfolio, and it's deeply insightful. If you work with others in any kind of creative fashion, this is worth your time.

The hoo-ha in the Interwubs about exactly whose childhood is being ruined by the announcemnt of a Thundercats reboot has driven out another announcement out of the news cycle. Which is a pity, because the previous announcement, the one that nobody has anything by enthusiasm for, is that Noelle Stevenson will be co-executive producing and showrunning a She-Ra reboot for Netflix.

On the one hand, it's a little sad that more people will see Stevenson's work because of a legacy IP than for her groundbreaking comics. On the other hand, a generation of kids will be influenced by the stories, the designs, the message that she gets to set into their eyeballs. And heck, her comics ain't going anywhere, they're still right there on my bookshelf and will be until the bindings fall apart from overuse.

Congrats to Stevenson, and whether the next big thing you work on is more She-Ra, the Nimona adaptation, or something completely new, we'll be here to snap it up.
---
Spam of the day:
Record and Download Any Video from Netflix, Hulu, Amazon, HBO, The CW, NBC, CBS, FOX, ABC, and More. This is a Limited-Time Offer.
Wow. You get a one-time payment of US$39.99, I get infringement grief from at least nine famously litigious and massive corporations. I think your business model may not be skewed to my advantage.
_______________
¹ Every publishing house in the English-speaking world is mentally re-evaluating how well they've treated their key people; when Gina gets to hiring, you're going to see the absolute best in the business go to work for her.
Likewise, I imagine every graphic novel imprint is frantically looking at their most lucrative creators, wondering if they can sneak in a contract extension a year early; when Gina gets to signing talent, you're going to see some seismic shifts.