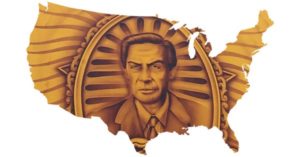 Whew, it's been a while since we at Fleen had a regular post; lots of things have happened since then. Let's hit them in no particular order.
This year's Creators For Creators grant has been announced, and the recipient is a British individual named Des (who, by the way, has a Patreon that is woefully undersubscribed). As a reminder, C4C offers a grant of US$30,000 to support a cartoonist or writer/artist duo to produce a new original work of 64-100 pages over the course of a year.

Want to keep this Golden Age of comics that we're in right now going? Make it possible for creators to live while they produce that first work and hopefully jump-start a sustaining career. It's important work, and seeing as how there are names of people I know on the contributor's list, I think it's high time I found out if I can contribute as well. I'll report back what I find out; I'm not a creator myself, after all, but damn if I don't feel a need to support this medium that I love so.

Jorge Cham doesn't do comics anywhere near as frequently as he used to; a life of far-flung travel for speaking engagements, making two movies, and co-authoring a general-audience book on the frontiers of physics (with a possible future Nobel laureate¹) will do that. But he decided that he needed to acknowledge a proverbial elephant in the room, given that PhD started on 27 October 199-damn-7, which means he has more than two decades in the comics game.

Between that milestone, and recently passing strip #2000, it's time to acknowledge the age and do something appropriate. So on Friday last Cham announced that there's going to be a 20th Anniversary book, the Kickstarting for which launched yesterday. Goal (plus an extra US$48) was met on Day One, naturally, and as of now the FFFmk2 puts the eventual total at US$80K-120K.

Speaking of Kickstarts, how about a little love for the sequel to the Greatest Kickstarter Of All Time? No, not the potato salad guy, Brandon Bird and his Jerry Orbach lowrider. Thanks to 622 people who love the idea of capital-a Art, Jerry Orbach is forever memorialized on an art car; now it's time to trick that mutha out and take it on the road:


[W]hat do you *do* with a Jerry Orbach car? The most common suggestion I've had is, "You should take it to [name of town where I live]." I think they're right: the world needs to experience the Orbach Car.

So, the purpose of this project is: 1) upgrade and improve the car to make it tour-worthy, and then 2) take it on tour. How fancy and how far, that's up to you! [emphasis original]

Since the launch of the campaign yesterday morning, the Orbach Across America project has nearly reached its (exceedingly modest) goal of US$2500; at that level, the Orbachster will get new tires and rims and make its way to some local SoCal car shows. After that comes mechanical improvements and bling (LED effects! Orbach stencils for the cop spotlights!) with an ultimate stretch goal of US$18,000, which means that the car will drive all the way to New York City for a meet-up on West 53rd and 8th, aka Jerry Orbach Way. I can already hear the echoes of doink-doink.
And a quick side note: tomorrow will largely be spent in transit, so there may or may not be a posting. Hopefully! But no promises.
_______________
¹ Although please note that we at Fleen refer to all particle physicists as possible future Nobel laureates, given that pretty much only the particle types ever get the Nobel.
---
Spam of the day:
YOUR AREA HAS BEEN APPROVED FOR SOLAR
Federal, state, and local governments are offering limited time incentives in 2016
Received 25 April 2018. You are very bad at your job.