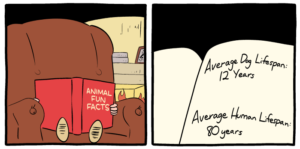 You're a monster, Zach Weinersmith, a monster for today's strip (trimmed above so as not to give away the punchline). And the extra gag (or votey, as the cool kids call it) was even more cruel.
It's all so mean, in fact, that all I can do today is present my occasional Clearing Of The Spams in lieu of anything else that might require me to feel joy, damn you. It's impossible for me to note that today is the release date of Vera Brosgol's superlative Be Prepared, or that today's Oh Joy, Sex Toy [NSFW, obvs] contained a nice little namecheck of ComicLab with Brad Guigar and Los Angeles resident Dave Kellett¹. Nope, it's nothing but spams today, thanks ZACH.
PS: Yeah, okay, it's not like you haven't warned us before.
---
Spams of the day:
But as for the mystery of what happened to Australia's megafauna, Price said: "The reality is that we just don't have that much information."
This eventually shifts around to the topic of knockoff NBA jersey available for bulk purchase from China. It's kind of impressive, really.
The persons shown in photographs in this email may not necessarily be actual users of loveswans.com
Well, yeah, seeing as how it's women in the photo and not swans.
The persons shown in photographs in this email may not necessarily be actual users of asiacharm.com
And another thing, as long we're doing boilerplate disclaimers and what claim to be unsubscribe addresses — are you in fact located in Inverness, Scotland, or Madison, South Dakota? Because you use both addresses in all your spams, and South Dakota is not exactly known as a place you can get good single malt, golf courses by dramatic seaside cliffs, or fog-enshrouded moors. Make up your mind, already!
Nude selfies of women you most likely know are available for you to view
Those women are not nude. Do you get how words work?
Chase Finance
I get the feeling this is a setup for a joke. Is your finance running? Well, you better catch it!
Ever heard of Medical Bill Sharing? See if you qualify!
Christian Healthcare is a community of devout Christians helping each other out with unfortunate healthcare burdens. It is flexible, compliant with the Affordable care act, and provides a proper sense of community
Yeah, lemme stop you there. One, your cost-sharing model seem to shortchange people right when they need help the most (especially if the folks reviewing claims decide the claimants aren't righteous enough). Two, you aren't an insurance plan, and you replicate many of the drawbacks that the Affordable Care Act meant to deal with. Third, do you know that you've got the same opt-out address as the mail order bride folks up above?
_______________
¹ Persevere. You gotta scroll down a ways before you find the plug (so to speak).