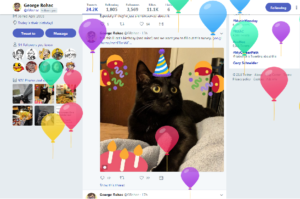 Today's post is brought to you by the idea that it's gonna be okay. There is so much hate and stupidity in the world, but on Saturday I met a six week old kid that was absolutely adorable while I was riding in an elevator and he doesn't know that there is all that hate and stupidity. With luck, we'll make it a good deal less so by the time he can tell the difference.
On the list of difference makers: George Rohac, or as he is known in these parts, George. Not many people get to be mononymic — your Madonnas, your Barbras, your Beyoncés — and here at Fleen only two people have earned that status¹, and only one of them could post a tweet to a survey that asked for my real name, address, birthday, and a whole squatload more info, and I'd fill it out.

It's part brand research, part effort to understand people better, part feedback on how he (that would be George) can be a better person. It caused a lot of thinking on my part, and I don't doubt it will do the same for you. Give George some info, you know he'll do something amazing with it. It's the least you can do — it's his birthday².

One of the most important things that George ever did, bee-tee-dubs, was share a video about his challenges with mental illness; it's not available any longer, but you can read what I wrote about it at the time. It was a hell of a lot less common, five-plus years ago, to make these kinds of public declarations. It let a lot of people know that they aren't alone; this message is particularly important in the creative community, which seems to have more than its share of people shouting down the lies that their brains tell them.

Every share of this nature — and here's the latest I've seen — increases the chances that somebody else gets the help they need³. Help can mean a lot of things, and the webcomics community does an inordinate job of helping the creators they follow. Whether it's sticking with creators during involuntary hiatuses, or readers coming together to increase support so that creators can take care of their families, I think there's another benefit at play.

For each person that we know (or "know", in the sense that we know their work) and help, the thought pattern grows — why just these people? Why not everybody? It's making the selfish and exploitative stand out as outliers as we do what we can. It's a hopeful thing, to think we can turn that desire to help into permanent, structural mechanisms that will keep health crises from bankrupting entire families. I'm usually far more cynical than this, so enjoy it while it lasts.

And in case you're worried about what your future brings, young people, Matt Boyd and Ian McConville have a thought for you today. And if it's still a dread day for you, consider: after doing far better in his surgery last November than expected, Jon Rosenberg's son Alec was told he didn't need followup surgery the day before his birthday no less, and his dad is able to get comickin' again. New SFAM, folks, with Jon at his Jonnest. If his curmudgeonly ways don't make you smile today, wait until the next strip. He'll definitely get you then.
---
Spam of the day:
My Name is Mr.Thomas Phaahla and I am writing to Introduce you and your Company to the Asia Pacific Investment Pte Ltd.(APIP) Debt/Loan Funding Platform.
Dude, you managed to spell your purported name three different ways. Try harder.
_______________
¹ After first reference so that any newbies have context. The other is Raina Telgemeier
² Just in case you were worried, George is the person least likely to demand a birthday present that turns him into a twisted shell of himself, warped by greed and evil, and tied up in the doom of the world. Second least likely would be, I dunno, Mr Rogers or Dolly Parton.
³ Not to mention the very key effect of normalizing treatment. As a tweet I saw over the weekend said, If you don't have enough artisinal, handmade neurotransmitters, store-bought is fine.