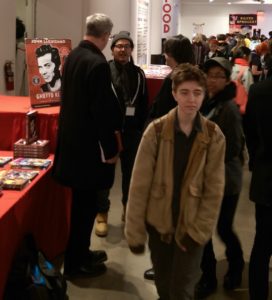 Everybody loves comics. Everybody can make comics, to whatever degree they feel they can either produce words + pictures themselves, or to find somebody that can help them.
---
Spam of the day:
OWN_HER_P*$$Y
This came from Erika and on first glance I thought Huh, Erika Moen is slacking on the consent a bit, but then I realized that was stupid and saw it was from Erika S, where the S stands for sucks, or spammer.
_______________
¹ Hermes himself is yet another of Zeus's bastards, but this one she likes. He kills off Argus, the hundred-eyed guardsman of Io (one of Zeus's previous conquests and currently on Hera's shit list) and she muses Zeus was smart to send Hermes to do this. I just can't stay mad at that guy.
² Which she offers up as premiums during pubic radio pledge weeks. It's great hat, and Neufeld needs to get Gladstone to make him one.
³ In Online Comics — Short Form, you have Gemma Correll, Lonnie Milsap, and Mike Norton. In Online Comics — Long Form, you have John Allison, Vince Dorse, and Ru Xu. Also, Tillie Walden is nominated in Graphic Novels for Spinning.
My preference (NB: I'm not a voter) for Short Form would be Correll, and Dorse has won in Long Form previously, so I'd prefer Xu or Allison there. But honestly, it's a good set of nominations. The awards will be given out Memorial Day weekend at the NCS annual confab, this year in Philadelphia.