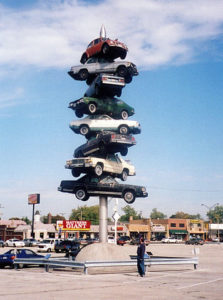 First day in weeks that I'm wrapping up a work gig that didn't make me want to tear my hair out, too. I think that Earth Humans call this a good mood. The only thing to mar it is that this weekend when I head into MoCCA, one crucial experience will be missing. See, whatever the comics show, without planning or arrangement, and absolutely without fail, Brigid Alverson and I will bump into each other at some point. This encounter then usually expands to include Johanna Draper Carlson and/or Heidi Mac.
This weekend, they're all in Chicago for C2E2, dammit.
I mean, it's a big show, and the Diamond Retailers Summit is happening adjacent, and if you're interested in the print comics world it absolutely makes sense to make that your show this weekend instead of trekking to Manhattan. But I'm going to miss my local municipality infrastructure management discussion buddy¹.
Also in Chicago for C2E2? C Spike Trotman, although to be fair that's in part because it's literally down the road from her house. Spike's become kind of inseparable from discussions of comics in Chicagoland — she's the dominant publisher of graphic fiction and nonfiction in the city, and a force of nature in the not owned by enormous media conglomerates wing of comics.
One of her hometown papers (that would be the Chicago Tribune, or is that Troncbune? has done a series of stories about C2E2 in its daily free paper, Red Eye, and a feature on Spike is part of the coverage. The story's not new to anybody that's been following webcomics for the past decade or so, but there are a lot of people out there that aren't described that way.
Some of them are discovering Spike and Iron Circus for the first time.
Some of them are considering making comics for the first time.
Some of them are realizing that being browner, queerer, less cis-male than the vast majority of comics creators have been need not be a bar to their participation.
Spike's absolutely changed up publishing, and she's going to continue to do so. If you're in Chicago and see her, you'd do well to listen to what she's got to say.
And if you see Brigid, tell her I said hi.
---
Spam of the day:
TIN NITUS FIX
While I do have (and have since I was about six … not due to trauma, but due to inner-ear baro-sensitivity) a mild case of tinnitus (it's only noticeable in absolutely silent conditions, and quieter than the sound of running a hand through my hair), I almost didn't recognize that was what was being referenced. Spelled that way, I thought I was reading the name of a character in the next Star Wars movie.
_______________
¹ Alverson's day job is in local government, and as such she's got an interest in emergency services. My volunteer time is as an EMT, and as such I've got an interest in local government. By the second or third iced tea, we're redesigning entire systems of governance.