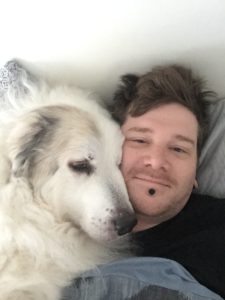 I met Shelby once, sometime after her first appearance in the strip, and she was incredibly sweet. A bit nervous being around a ton of strange people, but radiating that big dog zencalm. I remember reaching down through the floof trying to find the dog underneath and not being sure if I succeeded.
She was a comic strip character, an inspyration to others, the featured dog on a podcast, a t-shirt star¹, a giant-sized faithful companion for a giant-sized man, and a Good Girl.
After I saw the news I went to wake my guy up to tell him he's a Good Boy; he was annoyed until he got his ears skritched. If you have a dog handy, I recommend you do the same. And Keep Jeph (and everybody else that knew Shelby and loved her) in your thoughts a bit, yeah?
---
Spammers don't get to share the day with Shelby.
_______________
¹ This is absolutely true: my eye lingered on the shirt at the main QC page this morning, no particular reason; it's been there forever and I've always scanned over it. My thoughts were Awww, Shelby. You're a good girl and I smiled because you can't think about her and not smile. Now that the news has broken, the smiles will be a little sadder.