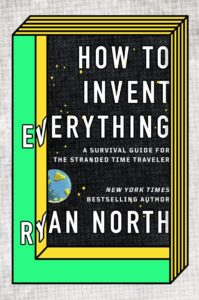 Work crisis, etc. Possibly murder by the time it's all done.
So please enjoy the news (I've been waiting to talk about this forever) that Ryan North has become — as near as I can tell — the first person to ever turn a t-shirt into a full-length book. Given that it teaches you how to bootstrap civilization at any time in the past, you might say that How To Invent Everything is no less than a full compendium of all human knowledge.
With pictures by Lucy Bellwood.
Pre-orders are available now, with the book releasing on 18 September.
---
Spam of the day:
Stop the IRS
It's not a lot, but I get a bit of money back from them most years. If we stop them, I won't get that money. Pass.