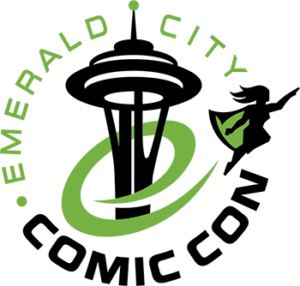 The Emerald City Comic Con kicks off tomorrow (with Thursday a full day for the first time, and long days on the show floor); the question hanging in the air is how everybody's large-but-not-too-large, still comics-centric comic show will do now that founder Jim Demonakos is no longer associated and Reed POP is fully in charge. There were grumbles last year, and this year could be make or break for the show's reputation as friendly to all corners of [web]comics.
But still, hard to argue when your Comic Guests contain the likes of Ananth Hirsh and Yuko Ota, Erica Henderson, Jim Zub, Kate Leth, Unca Ryan and Unca Lar, Lucy Bellwood, Melanie Gillman, Ngozi Ukazu, Ryan North, Taneka Stotts, and Tess Stone (and more comics people listed under Literary Guests, like Emily Carroll, Jen Wang, Kazu Kibuishi, and Vera Brosgol). True, there's 180 invited comics guests (and a hundred-plus Literary and Entertainment guests), but that's still a pretty good chunk of representation. More than you'd get at any other four-day major show, at least.
For the most part, those guests will be found in the Artists Alley, along with the likes of Ben Costa, Braden Lamb and Shelli Paroline¹, the gang from Helioscope (your Bellswood, your Meconii, and all the rest of their artistic cohort), Jakface McGee, K Lynn Smith, Ru Xu, Der-Shing Helmer, Tee Franklin, Tom Parkinson-Morgan (aka Abbadon), and Trungles.
Over on the main floor, you'll be able to catch up with Pat, Aaron, and the rest of the Alaska Robotics² crew (booth 204), Kel McDonald (booth 208), the Cyanide & Happiness crowd (booth 722), Nidhi Chanani (booth 409), Los Professores Foglio (booth 118), Hiveworks (booth 1502), Iron Circus Comics (book 212), Uncas Lar & Sohmer and their merry band of quasireprobates (booth 110), Los Angeles resident Dave Kellett (booth 1116), and the various associates of TopatoCo (which this time around will include Jeph Jacques, Sam Logan, David Malki !, Danielle Corsetto, Erika Moen & Matthew Nolan, Alina Pete, Abby Howard, Catie Donnelly, Tyson Hesse, and Brandon Bird, all on the luxurious skybridge).
All told, it's more webcomickers in closer proximity than at SDCC or any other large con. They're well represented in the programming tracks, too, which we'll make mention of tomorrow.
Confidential to MG: Congratulations! This is going to be great.
---
Spam of the day:
Upgrade to a Balance Transfer Credit Card
I believe we dispensed with this nonsense yesterday, but I confess your company name caught my eye. NoseRoseMedia is a new player in the sphere of consumer credit, but no doubt poised for great things.
_______________
¹ Speaking of, did everybody see the announcement that the Adventure Time comic series is coming to an end with issue #75? And that past contributors — like original writer Ryan North, original artists Paroline & Lamb, and North's successor Christopher Hastings — are coming back for that final issue, in a get the band back together type deal? Because that's happening.
² Pat, Aaron, and the rest are awesome people! If you are an awesome person in comics, you should go talk to them, particularly about Comics Camp, which is for awesome people. Many of the people mentioned on this page will be there. There will also be s'mores.