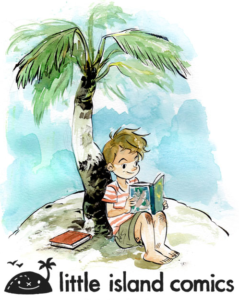 Something great happened in 2011; the folks behind Toronto's The Beguiling (one of the great comic book shops in the English-speaking world) opened an extension store next door. It was, as far as anybody can tell, the first comic shop dedicated to children and likely remained so for the rest of its existence. Little Island Comics was an act of pure optimism; optimism that the comics industry could produce enough material suitable for kids to sustain a store in one of the priciest cities in the world.
Comics may not be for kids, as the now-cliche headline would tell us, but vast swathes of them haven't been entirely appropriate for young readers for some time. Grimdarkgrittypouchcape comics were pretty dominant for a couple of decades there, but the big publishers manage to produce some stuff suitable for all ages, and the graphic novel trade has fallen over itself to provide more and more books each year¹. Damn good thing, too, or where will the grimdarkgrittypouchcape comics get their readers in the future, if kids don't develop the habit today?
And it worked. Little Island was successful until it fell prey not to neglect, or disinterest, or lack of product; it was a casualty to gentrification that tore up a chunk of now-valuable Toronto real estate. The Beguiling managed to find new digs, but Little Island was lost.
Until now.
The Beguiling is pleased to announce the re-opening of Little Island Comics, the world's first and only children's comic shop! Offering the widest possible array of graphic novels, manga, and comics for people 12 years old and younger, Little Island celebrates its Grand Re-Opening during March Break 2018 with a slate of creator appearances, refreshments and activities.
Whoa, cool shop returns and refreshments? Give me the deets!
Little Island Comics re-opens in March next door to its parent shop The Beguiling's newly expanded location at the top of Toronto's vibrant Kensington Market neighborhood. As The Beguiling enters its fourth decade as North America's premier comic book retailer, the move to College Street has allowed it to add a gallery and events space, which Little Island will share.
Next door to the Beguiling again? Check
Gallery and event space, so that LI's famed comic-making classes, launches, and events can continue? Check
Same staff that previously served the all-ages comics lovers of Toronto and beyond? Check
Anything else we should know?
Little Island will offer a 20% discount on all in-print kids comics, picture books, and graphic novels throughout March Break (March 10-18, 2018) to encourage families to dig into graphic novels! The week will culminate in a Grand Re-Opening Party on Saturday, March 17th, with refreshments, drop-in activities, story time, and appearances by such creators as:

Scott Chantler, Naseem Hrab, Brian McLachlan, Ryan North, Kean Soo, Britt Wilson, Tory Woollcott, and more!
Times for the Grand Reopening to come, but I'd keep an eye on their website, Twitterfeed, and on Facebook.
Here's to many more years on the Little Island; if you're in (or visiting) Toronto, drop by and tell them we say hi, and wish them every success.
---
Spam of the day:
CANADA GOOSE FOR MEN'S
While I appreciate the Canadian content, spammers, this "men's" doesn't believe that you will actually be able to get me industrial-strength parkas that normally run near US$950 for US$140. Call me skeptical.
_______________
¹ Note to Marvel, DC, etc: they do this because they like money. Releasing a new Kazu Kibuishi or Raina Telgemeier book is a license to print money because kids love comics if you just give them a chance to.