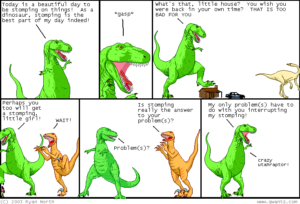 Hey, you know what today is, besides Saint Groundhog's Day? Yes, yes, it's Friday, but it's also a very special Friday for a couple of reasons:
Ryan Qwantz North, the Toronto Man-Mountain himself, marks fifteen years¹ of moving words around T-Rex, Dromiceiomimus, Utahraptor, a Tiny Woman, and various others (sinister raccoons, sinisterer cephalopods, God, The Devil, Professor Science, Mr Tusks, etc) and thus constructing the world's most formalist webcomic², Dinosaur Comics. North noted the occasion by, as is his wont, talking about Batman. This also marks the one time you can find a long-running webcomic and say Wow, the art on Day One was just as good as today!
Two of the key players in the past decade-plus of great comics (and great comics creators) getting a wide audience and critical notice were, themselves, recognized and rewarded for their excellent work. :01 Books announced that Calista Brill and Gina Gagliano have been promoted to (respectively) Editorial Director and Associate Director, Marketing & Publicity.

For much of the dozen years of :01's existence, Brill has been the person that made sure the book made sense³ and Gagliano's been the person that made sure you and I knew about them. It's well-earned on both their parts, and I'm sure neither of them knew where that little four-person shop would be a decade later.

Less of a happy vibe, but perhaps more of a timely one — Jim Zub writes just about every kind of comic you can imagine, but none has anticipated where the culture would be just before it got there as Glitterbomb.

When it launched I was seeing the story as a parable of how fame and the pursuit of it corrupts the soul; now that two (of a planned three) arcs are done, it's clear the book is even more about The Machine that seeks to feed that need for fame: those that crave being famous, and those that want to see others be famous (so they can love them until it's time to hate them instead). It's a Machine that particularly abuses and chews up women, and it's a message that's become particularly resonant since just about the time the first arc launched in Summer 2016.

The collected trade of Glitterbomb's second arc (subtitled The Fame Game) goes on sale in four weeks, and I think you ought to strongly consider picking it up. The first book was about one person on her way out of the Machine's notice; the second is about grabbing up somebody new to replace her, which makes the cold-bloodedness of the entire enterprise all the more apparent. No idea where Zub (and stellar artist Djibril Morissette-Phan) will go with the third and final arc, but if past scheduling holds, we'll find out around August/September.
---
Spam of the day:
People ask me "Please, Sinister, I need your professional help" and I always accept the request, `cause I know, that only I can solve all their problems!
This comes from somebody calling themselves Frank Sinister (probably no relation to Simon Bar Sinister, staple of my childhood afternoon cartoon-watching), who claims to be a professional writer. Trust me when I say that the rest of his spam posting read even worse than the snippet I've included here.
_______________
¹ Okay, technically it was yesterday, but North doesn't update on Thursdays. I think we all feel the same way about Thursdays.
² Seriously, North sets himself more rules than a Chuck Jones Road Runner cartoon.
³ And yes, I've had some nits to pick with :01 editorial flubs — some minor, some more important — but overall, the quality of :01's offerings have been top-notch, and some misses are inevitable (especially considering the fact that these books were likely in production while Brill was out on maternity leave and/or in the midst of ramping up from ~20 books per year to ~40 whilst simultaneously onboarding new editors).