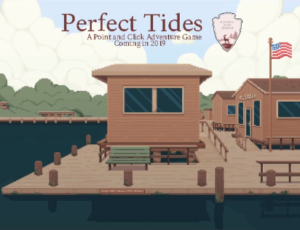 One may recall that not quite four weeks back, we talked about Meredith Gran and the old-school point-and-click game she's working on, and how I mused that this could be dangerous for me when the promised Kickstarter dropped.
A point & click adventure game about the fun, alienation, stupidity and agony of being a teen.

At the heart of Perfect Tides is a linear story that unfolds over the course of one year. We see the emotional genesis of a teenage girl, filled with humor, intrigue and visceral moments, against the backdrop of four seasons in the American northeast.

As the story progresses, there is opportunity for non-linear exploration, collection and utilization of items, and puzzle solving. The player can uncover new secrets in different seasons, in both day and night settings.
Gods dammit, Mer, I am not made of time! Maybe I can avoid the staying up until 3:00am with work the next day habit I fall into with these things; how much to pledge for the prequel comic? US$15 for PDF, physical copy with the game, soundtrack, and wallpapers for US$50? I like physical, but if I let that game in my house it's all over. Any rewards further down that might include just a physical comic?
Pledge $250 or more
In-Game Exister

Hopefully EVERYone will be *drawn* into the game, but this is literally what you'll get. A non-playable character will appear in the game based on your likeness.

Pledge $500 or more
Line Sayer

All the benefits of the $250, but your character will have a small speaking role! Subject to approval, the character will embody your own interests and/or objectives.
Gods dammit, Mer, I am on a budget! And I am weak. So very, very weak.
Please look through the rest of what you can expect from Perfect Tides, check out Gran's collaborator Soren Hughes, and help fund this thing. As of this writing (about six hours in), funding is sitting around 16% of the US$30K goal, with funding running until the last day of February. Good luck, Mer — I know you're going to crush it.
---
Spam of the day:
IVC Blood Filter May Shift In Your Veins, Causing Damage
The text of this one is worded such that it isn't sure if I realize that a filter was surgically implanted in my body, as if that's something I wouldn't remember.