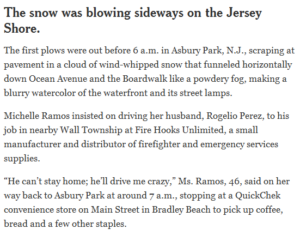 I will not use the name that The Weather Channel has decided to bestow on this storm; naming is for tropical storms, agreed upon by various national forecasting entities, and not something created for branding purposes. The being said, we'll all remember January 2018 as when we learned what a bomb cyclone is, and I will always remember the toll on my spine that clearing my driveway cost. Ouch.
To the rescue comes Fleen Senior French Correspondent Pierre Lebeaupin, who's been looking at North American French-language webcomics. Spoiler alert: there's more of them than you thought.
There is no question that France and the French-speaking areas in the neighboring countries house a vibrant community of online comics creators. But my attributions extend further than that, way beyond France … and in particular to Canada, which houses a community of French-speaking webcartoonists.
To begin with, I can't avoid Gisèle Lagacé (aka Giz), best known as the creator of Ménage à 3 of course, as well as for her collaborations with T Campbell: Penny and Aggie and Cool Cat Studio, but she's had her hand in way too many webcomics for me to list here, and now she is also doing gigs for print comics such as Archie Meets The Ramones, Josie And The Pussycats, Betty Boop, Jem And The Holograms, etc … (I sense a theme here).
And I also have to mention Isabelle Melançon, who not only draws Namesake, but is also a pillar of Hiveworks.
But while they create in English (notwithstanding the bits of French by Didi in Ménage à 3), I am most interested in these Canadian creators who publish in French, as they use a rather specific dialect of French. Compared to French as used in Europe, there are not just differences in pronunciation (think pəˈteɪtoʊ, pəˈtɐtoʊ)¹ or spelling; Québécquois have whole words like chum (boyfriend) that no one in Europe understands
They also use char for a car (voiture is used in regular French), pepper their speech with maudit (cursed) for emphasis, avoid words like tampon (stamp) unless they are referring to the feminine hygiene product (they instead translate stamp by étampe), scold French people who say week-end or other English words which have crept in common usage in France and instead go out of their way to say fin de semaine and the other proper French equivalents of these … but will say fun or peanut without batting an eye even though they are basically unknown in France. And lastly, they swear through the use of words from the Catholic liturgy: hostie, calice, tabernacle, etc.
For a first taste, begin by those three:
Samantha Leriche-Gionet, aka Boum, creates Boumeries (English version), which is an interesting mix of French-style autobio/comic blog for the theme with a more classical webcomic strip format. She deals with motherhood, but not only, and it's just adorable.
Olivier Bernard, on the other hand, creates Le Pharmachien (English version: The Pharmafist) from his experience as a pharmacist in French-speaking Canada, which has in turn led to books, lectures, and even a TV program! Dont miss his comics about allergies (and pretend ones), the dubious marketing of over-the-counter drugs, and … the octane number?! (none of which have been translated, unfortunately). Bonus: a cheat sheet for some local expressions.
Zviane creates, quite simply, the quintessential blogue BD. Travelogues, recaps, personal experiences, skecthes, etc. It's all there.
Thanks, as always to FSFCPL. I'ma go find me some ibuprofène.
---
Spam of the day:
The Triad Theater, 120 Seat Capacity, is interested in booking your show
Amazingly, this is a spam that doesn't appear to be a scam of some sort, but heck if I can tell how I wound up on their list. Other Gary Tyrrell, are you putting together some kind of traveling trombone revue?
_______________
¹ Editor's note: I am responsible for that stab at IPA, and any mistakes are my fault.