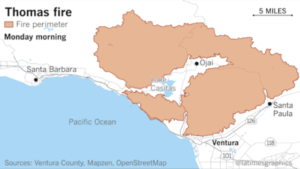 Sorry for being late. Let's just drop one thing in and call it a day.
Lucy Bellwood — comics artist, tall-ship sailor, and human enthusiasm engine — has been keeping an eye on the devastating fires in southern California, not least because she grew up in Ojai (which has been devastated) and her family still lives there. At least, their house escaped the first approach of the fires, but they've been forced away while the hazards persist.
Thus, today's announcement:
Today I'm releasing three new card designs to benefit #ThomasFire victims in my hometown. Read more here: lucybellwood.com/post/168755814 …
Here's the first of three postcards I designed for a Thomas Fire relief effort fundraiser I'm co-organizing at Bart's Books of Ojai this Saturday. Ojai is famous for its Pink Moment, a symphony of light and landscape that paints the Topa Topa mountain range in gorgeous colors every day at sunset.

We'll have blank postcards with this design and several others for people to color, as well as readings from myself, co-organizer Sarah Mirk, and many other local creators. If you're in the Ventura County area and want to come out on Saturday, December 23rd from 4-7pm we'd love to see you there.

If you can't make the fundraiser, but want to contribute from afar: all colored designs are available for purchase as greeting cards in my print shop! Click here to shop. [emphasis original]
Sarah Mirk, I should note, did a heartbreaking comic at The Nib the other day (with art from Andy Warner) about what people took with them when they fled the fire. I've been in the position that Bellwood's in — family in the path of disaster, not knowing for a time where they were or what was left behind — and I wouldn't wish it on anybody. If you want to pick up some rad art for a great cause, here's your chance.
---
Spam of the day:
IT Degrees – Check Out Programs Today
You are … yikes, twenty-seven years late on this entirely legitimate offer.