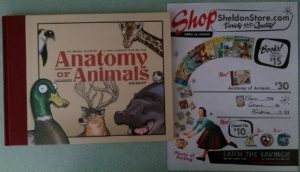 Time to get Caught Up, just in time for whichever holiday you celebrate! Some of this is new, some of this was getting ready to be mentioned when the whole Patreon category four shitstorm blew in. In any event, I hope you enjoy.
Longtime reader Mark V sent along an email pointing out something I'd have missed otherwise: an interesting post by Andrew Plotkin about … well, a lot of things. Firstly, Plotkin is the programmer that helped Jason Shiga come up with an interactive version of Meanwhile¹.

Meanwhile, in case you're forgotten, starred the childhood version of Jimmy from Demon, and was a pick-a-path adventure so complex that it required the invention of a new computer language to keep all the branching paths straight. If you've never seen it, you'd have eight or ten story paths you could follow on any page, leading to a colored thumb-tab on the side of the page, leading to the next page without requiring printed instructions like GO TO PAGE 37. It was a work of art. It also lent itself to computer-based implementations like whoa.

Now that we know who, let's talk about the what; Plotkin talks about starting a new job, about his many creative projects, and about all the insanely cool things he has/is/will be/wants to resume worked/working on. He's exactly who we want to be out there, making neat stuff. And he spends a good deal of the post talking about the tax bill coming up for a vote in the Senate tonight, and how it pretty much guarantees there will be no more independent creatives like him in the new tax regime.

If you love comics, love games, love art, do remember this (those of you in the US) and make it just one more reason that you make sure you register to vote and then fucking vote out the vultures that admit they're only in power to benefit their donors.

But because we, as a species, retain the ability to look past imminent doom towards a somewhat distant future and make plans, please know that MoCCA Fest 2018 applications are now up over at the Society of Illustrators site. The deadline is 31 December, so a little less than two weeks. MoCCA Fest will take place 7 & 8 April, returning to the Metropolitan West events space, hard by the USS Intrepid on the west side of Mahnattan.

It's a bit off the beaten track, but there's good food and snacks at Met West, it's only $5 per day to get in, and the panel venue remains the swanky Ink 48 hotel around the corner. I've been to every MoCCA Fest that there's been, and I've covered every one for the years Fleen has been in existence, so I'll be sure to see you there.

Another Kickstarter fulfilled — this time, Anatomy Of Animals by Los Angeles resident Dave Kellett — another chance for those of you that didn't get in on the campaign to get caught up. And unusually for a Kickstarter that's just finishing up shipping, AOA is already in Kellett's store, and may I point out for less than I paid for it during the crowdfunding campaign?

Yup, it appears that I have subsidized latecomers, as it cost me US$30 + S/H for my copy, and LArDK is now selling them for US$29.99. A sucker is me, right? Well, okay, I did get a spiffy stretch goal in the form of a Gandalf Airlines fridge magnet, so I guess I'll let Kellett off the hook this time. But there's something I want you to do for me:

LArDK included a flyer in the box, with a coupon code for the Drive book on one side² and an advert for the Sheldon Store on the other side; you can see it in the photo up top. But what's that? Computer, zoom and enhance!

Announcing now: show me proof that you tried to order Crisco, lettuce, or a 40-lb tub of Ovaltine from Kellett's store, and I will give you a dollar; on the Crisco, that's a 21 cent profit, my friend.
---
Spam of the day:
I saw you tweeting about reading and I thought I'd check out your website. I really like it. Looks like Gary has come a long way!
Everything is, in fact, coming up Gary.
_______________
¹ Launching on Steam in a month's time.
² Not sharing that code; it's not up to me to give y'all a 30% discount.