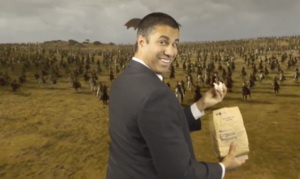 In the aftermath of the Patreopocalypse, it's a time to breathe deep, regroup, and then unleash hell on Congress to fix the FCC's naked giveaway to the cable industry. Got a favorite organization suing the Feds? Kick 'em a few bucks.
And if you need a few bucks for the effort, it's possible that Howard Tayler¹ has you covered:
Sandra and I are looking to engage the services of a designer for a new round of Schlock Mercenary t-shirts. This will be a work-for-hire project that pays a flat fee for each design, plus a slice of the purchase price for each shirt sold.

We want awesome designs that will work well with silk-screening, discharge printing, and other fabric-related technologies. Familiarity with Schlock Mercenary is not required, but is always kind of nice. For scheduling purposes, the bulk of the work will be done during January of 2018.

Applicants should email schlockmercenary@gmail.com with samples of their work and a short resume that highlights experience in this space. A link to an online art portfolio is a plus. We'll be accepting applications through December 30th, or until the position has been filled.
Get it? Covered? Like t-shirts cover you? No? Ears?
Look, just be glad that things are vaguely back to normal, at least for the time being. See you tomorrow.
---
Spam of the day:
her tunic she seems to have been modelled in pure silver by the godlike New York and Boston
Uh this appears to have little — if anything — to do with hot sexy women that want to have sex with me tonight. What gives?
_______________
¹ Evil twin, etc.