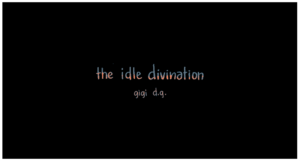 We have two things for you today — a piece of writing (originally for 280 character Twitter) that you can read, and a piece of advice for freelancers. Let's get crackin'.
Readers of this page are now doubt familiar with Gigi DG of Cucumber Quest (which is adorable, and presently undergoing a comprehensive, multi–volume printing from :01 Books¹), and also for radically different (melancholy, scratchy, nearly monochrome, adult in topic and treatment and mood) work like Lady Of The Shard. For fans of the latter, today is your lucky day.

Ms DG spent a chunk of time yesterday writing a story (with accompanying illustrations), geared towards the longer tweet limits; at the conclusion of the story (titled The Idle Divination), DG collected the entire thing< to itchio. Okay, the platform is nominally for indie games, but there are categories for tools, books, and comics, so no surprise that DG uses it to host her longform work².

The Idle Diviner is charming, and sad, and hopeful, and silly all at once. Gigi DG is a treasure, and if she feels like spending her own idle moments on stories like this, we will all be lucky.

Speaking of luck, somebody said once that we make our own, or that luck is indistinguishable from preparation, or some such. Whatever it was, it was vague and trite and — worst of all — absolutely true (except when it isn't … friggin' aphorisms).

In any event, there's huge uncertainty about what the US tax code will look like in a few weeks, and how badly everybody who isn't a billionaire or a corporation will make out (poorly, if the ruling party has anything to say about it). But there's a damn good chance that the more structure and formality you have around your business, the less you are a filthy insignificant individual just trying to get by, the better off you'll be.

Thus, this advice from a marine biologist who, like too many of us, has been forced to become a one-person lobbying shop for their own interests:

Freelancers, in the midst of everything else going on, you should probably create your LLC before the new year.
No idea what the final tax bill will look like, but 100% it will favor an LLC over a self-employed freelancer.

For freelance-type work, there's a lot of good reasons to do business as an LLC, regardless, but there's about to be a whole lot more.

https://chroniclevitae.com/news/1122-should-you-become-a-corporation …

It's the S Corp part of your incorp that's providing the tax benefits. You can also get an EIN as a sole prop.

For [California] in particular, you have to do more corporate feng shui, but you can't become an S Corp without first creating an LLC.

If you want to know the differences between a single proprietorship, an LLC, an S-Corp, and a C-Corp, you could do far worse than to make a call to Katie Lane³, who knows these things and can probably save you an amount of frustration equal to two or three times the dollars you pay her for her guidance. Preparation, people. Some think you aren't worth worrying about, but preparation means they have to take you into account. Do it for self-protection, do it for spite, do it for whatever reason makes sense for you.
---
Spam of the day:
Asking questions are actually nice thing if you are not understanding anything totally, but this post presents fastidious understanding even.
That even at the end made me read this spam in the voice of Snagglepuss.
_______________
¹ The first volume of which is delightful, and features color that really pops. I wondered if all the delicacy of Ms DG's work would be reproducible on paper, but :01 have come through. Thanks to Gina Gagliano and all at :01 for the review copy.
² Although I'll make a philosophical observation here — any platform that hosts your stuff that you don't own? Make copies. Multiple copies. In multiple locations. Because you never know when it's going to go away.
³ Light-ning LAW-yer!! She explained this to me using a Capri Sun pouch and two water bottles.