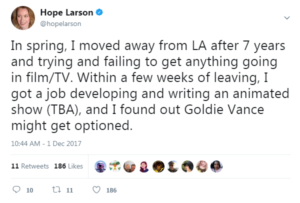 I'm not even talking about the gears of justice grinding finely today, I'm talking about webcomicker news. To the Newsmobile!
Readers of this page may recall that I have a high opinion of Hope Larson and have for some considerable time. Today, something that I asked her about last year is one step closer to an answer, as it turns out that Goldie Vance is getting a big-screen treatment, from Kerry Washington and Rashida Jones, no less:


The project, being designed as a potential family-film franchise at Fox, will be based on the graphic novel series, created by writer Hope Larson (who's also created graphic novels of Madeleine L'Engle's A Wrinkle in Time and DC's Batgirl) and artist Brittney Williams (Patsy Walker) and published by Boom! Studios.

Jones will adapt and direct the film version, which Washington will produce under her Simpson Street production company banner, which is overseen by Pilar Savone. Also producing are Ross Richie and Stephen Christy for Boom! Studios. Boom!'s Adam Yoelin will co-produce. Daria Cercek and Jon Wu will oversee for Fox.

Here's hoping (har, har) that BOOM! getting the Hollywood money payday means that they can stop nickel-and-diming their creators, and also that Larson and Williams are getting nice chunks of change from the deal¹. We at Fleen are obligated to remind everybody that Hollywood moves slowly, and there's no guarantee that Goldie will see the screen anytime soon (or even at all), but it's a nice recognition of a great story.

Speaking of good news, thanks to GeekDad for finding out what Ben Hatke will be up to for the next while:


First up, next fall (2018), First Second will be releasing a Zita the Spacegirl box set! It will combine all three bestselling Zita graphic novels into one volume–plus an all-new poster! Seriously, if you haven't yet jumped on the Zita bandwagon, you're missing out.

Second, the following fall (2019) will see the release of the third Mighty Jack graphic novel. The third entry in the series will be a big crossover spectacular wherein Jack and Lily team up with none other than … Zita the Spacegirl (and her friends) for the adventure of a lifetime. This is the big one!

We at Fleen are on record as digging both the Zita and Jack series, and I was hopeful that the post-credits reveal at the end of Mighty Jack And The Goblin King meant that we might see a crossover, but it was ambiguous enough that I wasn't banking on it.

The only thing is, Hatke's a machine; by my count he's done more than one book a year at :01 (three Zita, two Jack, Nobody Likes A Goblin, Little Robot, Julia's House For Lost Creatures, plus four books illustrated for other authors), and while the box set next year is exciting, it doesn't require a year's work. I suspect we'll see at least one more book between now and the Zita/Jack crossover, which I am eagerly awaiting already.

The one thing I get every year at this time? The Wondermark calendar. I love that thing, year after year. David Malki ! dropped the news all low-key that this year's version is up for order, so if you require a means to tell the passage of time in the coming year, grab a calendar and stand, or just a set of calendar refills, over at the Dry Goodsery. You'll be glad you did. I mean, I'm glad that I did, and that's the same thing, right?
---
Spam of the day:
Heya! I'm at work surfing around your blog from my new iphone 4!
Just wanted to say I love reading through your blog and look forward to
all your posts! Keep up the great work!
An iPhone 4, "scat_female"? I think you're a little behind the times.
_______________
¹ I'll put it another way; since Goldie Vance is creator-owned, Larson damn well better be getting the lion's share on the deal.