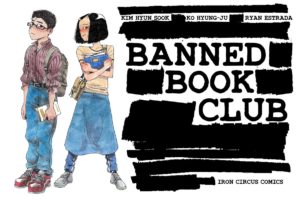 Phonetics! It's basically enough to drive all reason from the language center of your brain! Let's get some quick items out of the way.
The Beguiling is known for a few things: being one of the finest comics shops in the Western World (even if longtime manager Chris Butcher has moved on), being closely associated with TCAF (founding showrunner: Chris Butcher … coincidence!?), and having a kick-ass holiday party. Guess what? Holiday time!


OH HEY It's almost time for our annual Dinosaur Comics/Beguiling Holiday party!!!
Special guests Nicholas Gurewitch (debuting his new book!) and Erica Henderson!
More info/rsvp here: https://tinyurl.com/dinoholiday

Whoa, hey, new book from Nicholas Gurewitch? That would be Notes On A Case Of Melancholia, as previously noted. Those of you in The TO on Monday, 11 December, drop in and have a damn good time.

Twofer from C Spike Trotman: First up, the last Iron Circus Kickstart of the year is live, and it's for some good old-fashioned smut. Crossplay by Niki Smith has comfortably cruised past its goal and is on its way, with physical books available down to the US$15 level.

Second up: Iron Circus will be delving into autobio comics in 2018, with the amazing true story of students opposing a military dictatorship via the power of … reading? Oh, and it's by Ryan Estrada:

I am so excited to be writing this book with my amazing badass wife Hyun Sook, and art by @kevin9143

People that weren't alive then don't realize how dictatorial South Korea was for about 40 years. I was studying national security politics with a guy that used to teach at the Army War College in the late 80s, and we paid a lot of attention to the utterly undemocratic (yet oddly rules-bound) military government in Seoul¹. Heck, it wasn't until 1998 that a peaceful change of government between parties took place. This is gonna be a good read.
---
Spam of the day:
She ain't the hottest, But She'll Meet You Tonight
Congratulations, I think that's the first time I've gotten a spam that simultaneously negs and slut-shames. Asshole.
_______________
¹ There was a ritual to the college student protests — they'd get noisy in the streets, the water cannon and tear gas and beatings would start, they'd run back to the campus gates, and the cops would stop there. One day the cops didn't stop and continued their beatings on the campus grounds, and that was one of the events that forced popular change.