Readers of this page will know that I've been mocking the spam I get in nearly every post for years now, and it's only today that I come across one so perfect that it gets a dedicated post. Enjoy this as you are digesting.
Lagies and jenglefenz, I present to you the tactical Christmas stocking: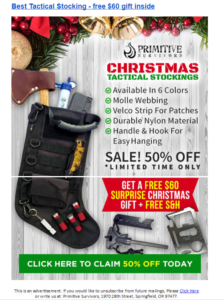 It doesn't appear to come with the hatchet, multitool, locking-blade knife, or shotgun shells shown, but the clips and velcro and MOLLE webbing are all there. It's the ultimate expression of pure, distilled toxic masculinity in pog holiday form!