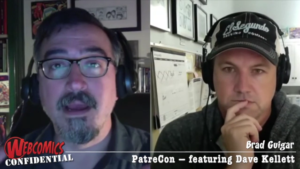 Want to see smart people talking about stuff? Time to follow some links, folks.
First up, Brad Guigar¹ took the time to talk to Los Angeles resident Dave Kellett as part of his Webcomics Confidential webcast series [Webcomics Dot Com subscription required]; for longtime readers of this page, it was a hearkening back to the glory days of what he learned at the recently-held PatreCon 2017. The conference was invite-only, and while there are some talks from last year's iteration publicly available (and the same will probably happen eventually for PC17), there's not really an effective way to learn everything that happened without talking to somebody that attended.

Guigar and Kellett's discussion is a dense hour of key points about how to use Patreon to its best effect, and if you're on Patreon there's undoubtedly good info for you here. It's well worth tossing Guigar five bucks for a 30 day trial to have a listen and take notes. I will give you one nugget though — there's a killer discussion of whether it's better to set up your Patreon to run per month or per update.

Hey, remember when Kelly and Zach Weinersmith talked at Strand Bookstore and C-SPAN recorded it? That was great. It wasn't known at the time when C-SPAN would be running the talk, but now it is:


This Sunday at 7pm ET scientist Kelly Weinersmith and cartoonist Zach Weinersmith report on future technologies

That would be Sunday, 12 November. C-SPAN is on your cable lineup in that block of channels you don't usually visit. or will likely be here sometime after the broadcast premiere. You'll learn about how supermarket snickerdoodles will enable the hilarious robot apocalypse, space elevators, why quantum computing will never get a popular explainer, and Crypt-Keeper wasps all of which will be worth your time.
---
Spam of the day:
We are offering this to you because you are a registered member of the comic community.
Okay, I mock down here, but I want to be serious for a minute.
This disclaimer was at the bottom of an email imploring me to support a Kickstarter that recently concluded (it was sent approximately halfway through the successful campaign).
I'm not mentioning its name and I'm never going to mention it, because this? This was done wrong. You got my email from a list I'm on because I hold press credentials for SDCC; it's meant for sending news and announcements.
While it's acceptable to indicate that you're running a Kickstarter, a press release is not the same as the give-us-money appeal that you send to your audience. People wanting to let me know about your thing, don't do this.
_______________
¹ A sexy, sexy man.