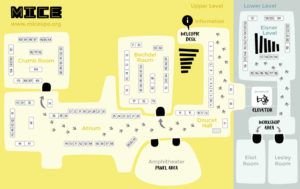 It's time again for MICE — the Massachusetts Independent Comics Expo, held at University Hall of Lesley University in Cambridge, MA — and that means there's gonna be indie/webcomickers in attendance. Let's see what's up.
First of all, there some really cool programming to see. On Saturday, you've got:
And then on Sunday, you've got:
Bonus: every session will have ASL interpretation available!
In addition to the folks already mentioned, creators present¹ will include Alexander Danner, Alison Wilgus, Kori Michele, Luke Howard (B), Luke Howard (J), Maki Naro, Matt Lubchansky, Penina Gal, Rosemary Vallero-O'Connell, and Zack Giallongo. And, since it's in her neighborhood and all, I imagine my good friend Brigid Alverson will be wandering the floor and committing acts of journalism. Tell her I said hi!
Best of all, MICE falls squarely into the expo/festival model of show, and all events are free and open to the public; doors are open 10:00am to 6:00pm on Saturday, and 11:00am to 5:00pm on Sunday. Cambridge is well-served by public transit, with the Porter Square MTA stop maybe 100 meters up Massachusetts Avenue.
They've also got one of the most well thought-out anti-harassment codes I've ever seen, with staff members trained in Bystander Intervention. I hope that it's not needed, but it's great to see a staff that knows not just what they're supposed to do, but how to do so in a manner that doesn't make the initial offense worse. Bravo.
---
Spam of the day:
I am Asma al-Assad, the wife of Bashar Hafez al-Assad of Syria
Yeah, no.
_______________
¹ And, speaking purely from a selfish POV, many thanks to the MICE organizers for placing the exhibitors in a simple alphabetical list, with pictures, names, affiliations, and clickable links to their websites on a simple HTML page. No pop-ups, no pages you have to click through to in order to verify who you're talking about, just plain info in plain sight. Thank you.