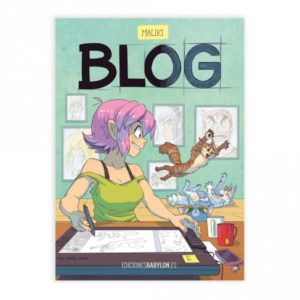 Let's finish up the week with a word from Fleen Senior French Correspondent Pierre Lebeaupin. He starts with a bit of news, digresses into the fine points of French IP law, and bring it back around to the potential for better access in the future. Take it away, FSFCPL!
Last week, Maliki became an internationally published comic series. Indeed, on October 5th Ediciones Babylon¹ released Maliki: Blog in Spain in Spanish …
… I sense you are disappointed.
It is clear that we at Fleen would be most thrilled to cover the news of Maliki being published stateside, but sometimes events don't happen in any expected or logical order: contacted about the genesis of this project, Team Maliki stated that [t]he publisher stumbled upon Maliki, then the Maliki BLOG, and simply contacted [them] to know if [they] would be OK for a Spanish version. In other words, an opportunity they were happy with presented itself, and they took it.
It is, nevertheless, an important development, and a first: the first time a French webcomic is published outside a French-speaking country without having first gone through a traditional publisher for the French edition. This means Team Maliki directly manages their international rights, no middleman.
Financially, it matters, but less than you'd think: even when a publisher manages the international rights and sublicenses them to foreign publishers, royalties have to be paid to the author whichever the edition, by French law. For instance, the rightsholders for Astérix once successfully sued their French publisher who played fast and loose with this rule for foreign editions, and given the international reach of Astérix, I can not even begin to imagine what the damages must have been like.
However, when it comes to control, especially creative and quality control, it changes everything: French creators often have very limited control over foreign editions, with sometimes disappointing results. But if there is one thing we know about webcartoonists, it is that they insist on being in control, and Team Maliki were in a position to make sure it was a product they could be proud of. Moreover, they were able to seed a Spanish version of their site with translations provided by the publisher, and while only a sampling is present at the moment, all the infrastructure is in place to produce them all: note the third flag that appeared for e.g. The Creepy Old Guy.
But the most important lesson is this: it can be made to work out. There is no reason for foreign publishers not to treat directly with creators who still have all their rights, and the latter will usually be more than happy to have someone else handle promotion in a market unknown to them as well as translation (not everyone can summon a translation dream team out of their communities, at least not for every language): the proof is in the pudding.
As always, we are grateful to FSFCPL for keeping us up on the development in bandes dessinées web, and hope that this prompts some of our stateside publishers to look to creators on the continent when next trawling for good reprint projects.
---
Pourriel du jour:
Irina Shayk is without question heating up the summer season on the quilt pertaining to saying!
Translation: they can manage it for a webcomic or graphic novel, at least try with the spams, yes?
________________
¹ Who, incidentally, also publish Lucky Penny in Spain, including a nice interview with Yuko Ota and Ananth Hirsh (English version at the bottom of the page).