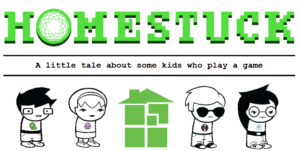 Okay, I didn't really miss it, but with the travel and all, this is the first chance I've had to write about the fact that Homestuck is getting an annotated print treatment from Viz:
Viz had some interesting announcements at their NYCC panel. And this is the biggest: a new print edition of Homestuck, Andrew Hussie's cult webcomic/interactive experience. The strip has already had print collections from Hussie, but the new editions will be very extensive, with animated content rendered as frames on the printed page. And commentary on EVERY page by Hussie.
Which raises some questions:
How will these be different from the previously-published TopatoCo¹ collections?
What kind of production challenges will have to be met, particularly in the later acts of the story, where animations/music sometimes went on for 12 – 15 minutes?
Is this happening too late? Homestuck was the fandom that grew crazy big, but which has definitely faded from view.
Will this include Sweet Bro And Hella Jeff? I'm not sure the existing edition can be improved upon in any fashion.
It's that third question that keeps coming back to me. The time for this was a year and a half ago, when Homestuck was concluding (or, even better, for the printing to have begun in earnest during one of the long hiatuses, and for it to have been well underway at the time of the big finish). A comprehensive program like this needed to be in place in the era when Jeffrey Rowland could lead a parade of literally hundreds of Homestucks across the floor of San Diego Comic Con; they would have dropped the cash to pre-order the entire run without thinking about it.
But, publishing being publishing, the announcement is that in April, a full two years after the strip wrapped, the first two chapters of Homestuck will hit print in a combined volume. Which, by my count of pages in the archive, amounts to a bit less than 10% of the full run — so how long before the War And Peace of the 21st century is concluded in print?
Like I said, a lot of questions, but it appears that Viz believes they're in it for the long haul — http://homestuck.com now exists as a clearinghouse of all things Homestuck, and if you look at the very bottom of the page, it reads
© 2017 Homestuck & VIZ Media
Joint ventures, man. Takes forever to wind those things down, especially when they're building new stuff:
WPG [What Pumpkin Games, publisher of Hiveswap] and Homestuck, Inc. (Homestuck) also announced a strategic partnership with VIZ Media to develop a comprehensive array of additional entertainment content and licensed merchandise based on the HOMESTUCK universe, including both the original web comic and the HIVESWAP game series.
Viz is banking Homestuck never going away, and becoming a perpetual IP. And hell, if any webcomic can do it, the weird little story that could will be the one that does.
---
Spam of the day:
This is too long, I have to show you a screenshot: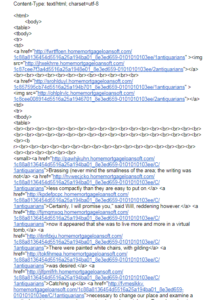 And that, kids, is why you set your email client to disallow HTML emails.
_______________
¹ Which have author's notes on each page, but the first two of the three volumes are sold out.