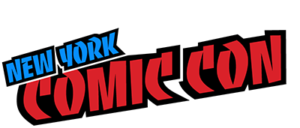 NYCC is upon us, and although this is the second year they've decided I shouldn't be granted press access (although they've been awful free about spreading my email address around as if I were accredited press, not that I am bitter), it appears to be a better year for webcomics types at the show than in recent years. It used to be full of of the New York/east coast webcomics crowd, then almost all of them were driven out in favor of such comics-associated brands as Chevrolet, but this year's not bad.
The Guests of the show include a bunch of familiar names, but don't actually list their Artist Alley addresses; for that, you have to go to the show floor guide and scroll through until you find 'em, which is annoying. Others aren't in AA but are on panels, yet their panel schedules are listed as Coming Soon. Given that the show starts in two days, that's cutting things a bit close. Anyway, Guests include Ananth Hirsh and Yuko Ota¹ (fresh off their Ignatz win, N2), Carey Pietsch (Friday panels only), Emi Lenox (Thursday to Saturday only, K24), Erica Henderson, K15), Kate Leth (K16), Molly Ostertag (couldn't find a booth assignment, try :01 Books), Ngozi Ukazu (N1), Pénélope Bagieu² (Thur/Fri only, no booth assignment, try :01 Books), and Tessa Stone (N1).
In addition, you've got the Blind Ferret folks (taking bets on which Broadway shows Sohmer goes to see when he's not at 1728), the Cyanide & Happiness folks (2247), Evan Dahm (I6), First Law Of Mad Science (1050), Kel McDonald (I5), and Scott C (G28). Publishers that will likely have webcomics types in attendance at various times include BOOM! (1828), :01 Books (2239), and Oni Press (2028).
I know that Jim Zub will be wandering the show like a vagabond samurai, without a booth. Finally, lawyer to the independent creative community Katie Lane³ will be part of the NYCC Continuing Legal Education series, as part of the panel for Beyond the Printed Page: An Overview of Licensing Comic Book Properties to the Film, Television, and Merchandising Industries4, on Sunday morning. Not gonna bother with the details, since it's an extra hundred bucks and only of interest if you're a lawyer. And it's pretty likely that I missed people that should be listed, so be sure to drop me a line to fix that, or if you want to hang out away from the Javits Center (aka The Worst Convention Center In The World).
---
Spam of the day:
Microsoft flight simulator x gold edition
Man, even back in the day of the first IBM PC, I couldn't ever keep those planes in the air. Thank you for reminding me of my manifest failures.
_______________
¹ I always list them as Yuko and Ananth, but today I'm switchin' it up. Also, if you go looking for them in the exhibitor list, you'll find Johnny Wander and Ananth Hirsch [sic], no mention of Yuko.
² Thanks to the sharp eyes of FSFCPL, we also know that Bagieu, Zep, and Julia Wertz will be at Columbia University's Butler Library tomorrow, Wednesday 4 October, from 6:00pm to 8:00pm talking about DIY careers in comics.
³ Light-ning Law-yer!!
4 I guess lawyers get paid by the word as well as the hour.