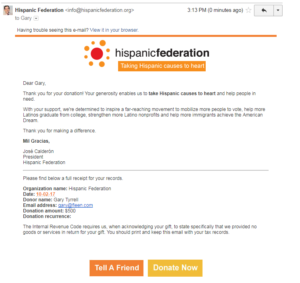 Okay, this is my fault: I dropped the ball on pushing the Hispanic Federation's UNIDOS campaign for hurricane relief after I launched my matching campaign last week. Jon Rosenberg's medical fundraiser¹ hit just after and distracted me, as did the general state of the world being awful. Regardless, we didn't get as much as we might have otherwise (then again, having four matching fundraisers this year, plus helping Alec Rosenberg to walk without pain, means that we may all be feeling collectively tapped out).
Nevertheless, you came through. Backers (all of whom elected to remain anonymous) donated and I rounded up my match to US$500. It's not enough, but it's a start. For reference, this brings the Fleen Fight For Fungible Futures Fund to a total of US$9275 of matches, plus another US$375 from my employer. Between you and me, that's nearly twenty thousand damn dollars from fans of webcomics to help and defend those that need it. Thank you all.
In other, less immediately financial news:
We wrote last week of the return of Christopher "Doctor" Hastings to webcomickin', and he had one more surprise for us. Turns out the five comics we saw last week are not related to each other at all, but were each the launching point for a separate story:


Here are my FIVE new weekly comics!

Mon: Magical Merlin
Tue: Queen of Clubs
Wed: Asimov's Laws
Thu: Karate Sewer Gator
Fri: Woodsman!

Magical Merlin is naturally a wizard; Queen of Clubs looks to be a domestic sitcom; Asimov's Laws features Inventor Dad and wacky maker mishaps; Karate Sewer Gator is intrigue involving punks, dope, and the eponymous gator; and Woodsman! so far is heavy on camping mishaps at the hands of bears. Friggin' bears. One or more of them is sure to tickle your fancy.

Did I mention that my wife quit her job last year to go back to school for a good old-fashioned re-careering? Because she totally did. Which is why last night, I was helping her study the geological time scale, from the Hadean eon (formation of the Earth to ~ 3.6 billion years ago) through to the modern day (we're in the tail end of the Quaternary period of the Cenozoic era, of the Phanerozoic eon, starting a paltry 2 million years ago). At the conclusion of the study session², I passed her my copy of Abby Howard's Dinosaur Empire and told her just to read that. All the life before dinosaurs back to the pre-Cambrian, and all the life since the K-T extinction event have all sucked rocks compared to dinosaurs³.

As noted when I reviewed Dinosaur Empire, that book is listed as the first volume in a series called Earth Before Us, but it wasn't clear who might be making subsequent books.

Wonder no more.

Hey, folks! Just to let you know where I've been all month, I've been hard at work on the pencils for book 2 in the Earth Before Us series~

So this is why I haven't been updating. Sorry for all the waiting you've had to do, and thank you for your patience!

Speaking for myself, this is great news. Sure, I like getting free comics from Abby Howard, but getting more ancient critter books? Maybe the Oligocene, aka The Age Of Horns? Or the Devonian, aka The Age Of Fish? Heck, let her take a shot at the Cambrian explosion and all the protofish and sea scorpions and weird-ass spiral shell squid. I'm so in, and ready to give her money in exchange for books 2 through infinity.
---
Spam of the day:
Jane Seymour explains how Crepe Erase can help you look as young as you feel.
I feel about sixteen most days, and if you ditch the random grey in my hair and the moustache, I still look it. Do I win?
_______________
¹ Which, as I write this five days later, is sitting just north of 93% of goal. You are all amazing.
² And that's why the writers of Doctor Who screwed up in the Third Doctor era, because they were described as having dinosaurs, but the Silurian Period was over a good 160, 170 million years before the first dinosaurs appeared in the Triassic period. I'm not sure her professor will appreciate my nerdrage.
³ Not sure what the academic appreciation of that opinion would be, either. Don't care. Dinosaurs are the best.