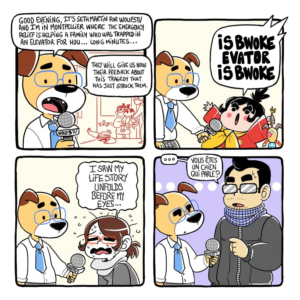 Webcomics are, naturellement, a world-wide phenomenon; we at Fleen are pleased to bring you the latest news on the French webcomics scene, courtesy of Fleen Senior French Correspondent Pierre Lebeaupin.
Montpellier¹ might not seem like a big city, but it does house a vibrant comics community, of which at least Paka (corny, untranslatable puns, with some exceptions) and Fabrice Erre (the life of a history and geography teacher in high school) maintain webcomics. These are very much anchored in local life … which also means they are unlikely to ever be translated (corny puns don't help, either).

But earlier this year they have been (re-)joined by Yllya (a previous veteran of comic blogs), another Montpellier dweller, who tells us about her Happy Family and in particular their daughter .. Their troll, pizza-hating, job-threatening, just plain evil daughter. Not only are those are available in English for your reading pleasure, but you can see the author improving her English strip after strip, up to a point it will soon be flawless. Highly recommended.

Not only do Agat Films et Ex Nihilo produce the animated version of Tu Mourras Moins Bête (of which the second season has just started airing), they also unveiled a few images of their adaptation of Les Culottées on the occasion of the Cartoon Forum in Toulouse, and they seem to be doing a great work of adapting Pénélope Bagieu's style. They are also there in order to look for foreign broadcasters; no word as yet on that front, but we at Fleen will be sure to keep you posted.
Many thanks to FSFCPL, and come back tomorrow for an analysis of the Girls With Slingshots omnibus Kickstart; we're a little short of 24 hours (and thus outside the window to calculate the FFFmk2), but considering that (as of this writing) it's sitting at US$97,824, I'm going to guess that the final total is: large.
---
Spam of the day:
Your 2017 Transunion, Equifax and Experian Credit-Scores as of Sep 16
Weird. In the aftermath of the Eqiufax breach, there's plenty of disclaimers on the sites of Transunion, Equifax, and Experian about how they maintain credit histories, but do not themselves calculate credit scores, which are determined by outside algorithms. It's almost like you don't actually represent these bureaus and don't know how they work. I'll certainly give you all my personally identifying and financial information!
_______________
¹ Full disclosure: you correspondent studied there for two years and has a number of relatives living in the area.