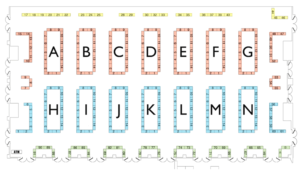 For those who were intrigued by the early descriptions of SPX panels, I should note that the programming schedule is now posted, with speakers including Jillian Tamaki, Eleanor Davis, Tillie Walden, Gene Yang, Keith Knight, and Shannon Wheeler.
Of those, Tamaki and Walden will have book debuts; it's not listed on the site as a debut, but the English-language edition of Alex Alice's Castle In The Stars: The Space Race of 1869¹ is on Tuesday and I say that's close enough.
And then, of course, there are the many, many exhibitors who'll be in the Marriott Bethesda North ballroom; in roughly geographic order, you should keep an eye out for:
Green Zone
Top Shelf (wall 64 to 67), Iron Circus Comics (wall 72 and 73), Kel McDonald (wall 74), Ananth Hirsh and Yuko Ota with George Rohac (wall 81), Ngozi Ukazu and Mad Rupert (wall 82), Ru Xu (wall 91A).
Blue Zone
Drawn & Quarterly (wall 1 to 4), Miss Lasko-Gross (table H10A), Whit Taylor (table H14B), Tony Breed (table I3B), Ross Nover (table I10), Natasha Petrovic (table J6), Adam Aylard, David Yoder, Joey Weiser, and Drew Weing, Eleanor Davis (tables K12 to 14), Cartozia Tales (table K8), Lucy Bellwood (table K9), Retrofit Comics (tables L2 and 3), Nilah Magruder (table L6), Shan Murphy (table L10B), Koyama Press (tables M1 and 2), Dustin Harbin (table M4), Carla Speed McNeil (table M7A), Sophie Yanow (table M12A), Toronto Comics Art Festival (table M14), MK Reed (table N1), Gemma Correll (table N2), Sophie Goldstein (N13B), Ed Luce (N14), Fantagraphics (wall 56 to 61).
Red Zone
School of Visual Arts (wall 7 to 8), Colleen Frakes (table B5), former Fleen scribe Anne Thalheimer (table B6A), Liz Pulido (table B8), Zach Morrison (table B11), Jamie Noguchi (table B9), Barry Deutsch (table C13), 2dcloud (tables D1 and 2), Evan Dahm (table D8), Becky Dreistadt and Frank Gibson (table D9), Penina Gal (table D13), Carolyn Belefski (table E4A), Carolyn Nowak (table E6), Carey Pietsch (table E7A), Natalie Riess (table E7B), The New York Review Of Books (table E13B), Liz Prince (table E14A), Falynn Koch and Tucker Waugh (table E14B), Rebecca Mock (table F3A), The Center For Cartoon Studies (table F4), NBM Comics (tables G1 and 2), Tillie Walden (table G3), Alex and Lindsay Small-Butera (table G4), Kori Michele Handwerker and Melanie Gillman (table G5), Adhouse Books (wall 53 to 55).
Yellow Zone
Sara & Tom McHenry (wall 25), Jess Fink and Eric Colossal (wall 28), Danielle Corsetto (wall 29), TopatoCo² (wall 31 to 33), The Nib (wall 34), Meredith Gran and Mike Holmes (wall 35A), Out Of Step Arts³ (wall 44 to 46).
The Small Press Expo runs on Saturday 16 September (11:00am to 7:00pm) and Sunday 17 September (noon to 6:00pm). Admission at the door is US$10 on Sunday, US$15 on Saturday, and US$20 for the weekend.
---
Spam of the day:
Search for the best gas cards Compare for the best features
What features? You put money on the card, you give it to somebody, they get that much gas. Done.
_______________
¹ Imagine a Miyazaki story with a male protagonist, set in Jules Verne's Europe, against a backdrop of Prussia's quest to unify all the German states under their banners (and the threat of an unstoppable fleet of near-space ships as the Romantic period wound down and the Belle Epoque got underway; also, Mad King Ludwig is in it).
It's a lushly-painted story with a tight story that will be concluded in a second volume; the hdardcover itself is in the dimensions of a children's book, but clocks in at 60 pages of gorgeous bandes dessinées. Get it for the airship fan you know.
² Including Kate Leth and Abby Howard
³ Including Andrew MacLean, Paul Maybury, Rosemary Valero-O'Connell, and Neil Bramlette.