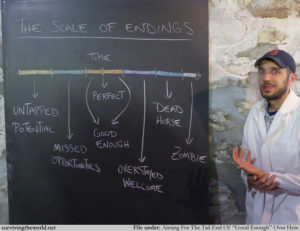 Another webcomic announced forthcoming retirement, but it's more like a beloved sports figure having a farewell season. Today is the start of September and in many parts of the world, that's as close to the start of the academic year as you're going to get. A number of Fleen's readers and subjects are academic, and so they're thinking of this as back to work season. For one of them, it's the last season before retiring:
[T]his is the time that feels most appropriate for reviewing the past year and preparing for the oncoming year, setting what your goals will be and challenging yourself to do what you want to, as well as figure out where everything should be when the Academic Year is over.

So with that in mind, I'll be ending Surviving the World on June 1st, 2018.

I started Surviving the World because I needed it, and it was crucial to my happiness and success through the end of grad school and through my post-doc. It started off my professorial career on just the right note. And then in what has been my dream job of being a teaching professor, not to mention the raising of two awesome kids, STW slowly became less and less important in my life and to my happiness. And while I still love STW, I know this should be the year that STW graduates, if you will, if I want my love for it to persist. So I'll pack away the chalk at the end of the Academic Year.

I hope to make good comics straight through the end of STW. I hope you'll enjoy them. I'll try to crowdfund the one and only STW book (finally) early next year, and hopefully that will be successful. I don't know exactly how well it will finish up, but I never expected many of you to be along for this ride in the first place, so I guess we'll find out together.

So let's roll into this last Academic Year together. I hope you liked what the class has been so far. I hope you like what's left. Thanks for being here, either way.

(Also, June 1st will be one day past the 10th anniversary of STW, so I'll be able to honestly claim that STW ran for 10+ years! It's a small and ridiculous detail, but STW has always been about both small and ridiculous details, so it feels appropriate.)
That would be Dr Lucas Landherr of the Chemical Engineering faculty at Northeastern University, in his alter ego of Dante Shepherd, chalk addict and labcoat aficionado. What he doesn't mention in his essay is that he will no doubt keep the comics coming in other forms, as he's received both grants and significant professional acclaim¹ for his innovative use of comics to teach complex STEM concepts [PDF].
What I am saying is that it's been a fun ride, and things are only likely to get funner as the year wears on. I hear during Spring Break, he'll be naked, drunk, and cavorting with dry-erase whiteboards for the whole week. Scandal!
Now get out and enjoy the long weekend. As a reminder, the F-Six matching campaign for Houston flood relief continues until midnight on Monday, so don't forget to give even a little; as mentioned earlier, your contribution will be tripled.
Current fundraising for Houston total: US$175
---
Spam of the day:
Start fresh this spring – consolidate your debt
No foolin', I have no debt to consolidate. My debt is negative.
_______________
¹ American Institute of Chemical Engineers 35 Under 35 Award, 2017;
American Society of Engineering Education Northeast Section Outstanding Teacher Award, 2016. Not to mention awards for teaching at Northeastern, all within his first five years of teaching. For a person at the start of his professing career, this is an amazing track record.