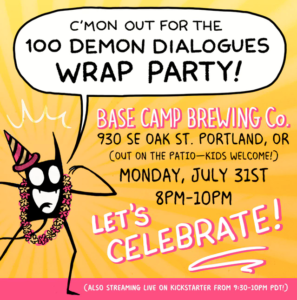 How's Thursday treating you? Good? Good. Let's see what's up with a Kickstart that wrapping next week, one that's starting next week, and some good feels along the way.
Lucy Bellwood, distilled essence of enthusiasm and Adventure Cartoonist, is getting ready to wrap the campaign for 100 Demon Dialogues, and is rapidly closing in on doubling her US$25K goal¹. To celebrate, she's holding a wrap party for backers on Monday evening, to coincide with the conclusion of funding:


If you're in Portland, OR, come along to the Base Camp Brewing Company outdoor patio next Monday, July 31st from 8-10pm for a group hangout. Base Camp is all-ages friendly till 10pm, so younger friends are welcome, and there are delicious food carts right outside for those who want to get dinner. I'll bring the demon prototype so you can all discover just how soft he is (VERY SOFT) and maybe even some original art.

"But wait," I hear you cry. "I'M NOT IN PORTLAND."

Never fear! You can join us for the last 30 minutes of the campaign via a neat feature called Kickstarter Live. It's an online video stream where you can tune in and join us at the party, ask questions, release glad cries of victory, and other stuff. That'll go live at 9:30pm and last until the end of the campaign at 10.

Wish I could be there; attendees, please alternately berate and kindly pet the demon plush for me.

Los Angeles resident Dave Kellett hasn't had a Sheldon book out for a while, but that's about to change. Over the past, I dunno, year and a half, two years, he's been doing one-off strips of wildlife anatomy, as seen here in the latest iteration. He's got dozens of these now, and he's about to launch a Kicker to make a book out of 'em come Tuesday morning. So basically, party with Bellwood and wake up with Kellett.

I've seen some of the Kickstarter video, and some of the process pages — the entire thing is going to look like the sort of very serious scientific treatise that they would release about a hundred years ago before they really knew how things worked. I once went through a chemistry text that my grandfather had saved from high schoolwhere much of the Periodic Table was missing and they spoke about the new a-tom-ic theories with trepidation. It'll be like that, only with anachronistic references to guacamole and Grindr. It's gonna be a hoot.
---
Spam of the day:
*_*Refinance Today and Save!*_*
Dude, my credit score is like 849. You want me to refi, you're gonna have to offer me negative 2.3% interest.
_______________
¹ The FFFmk2 would place her about US$70K +/- 14K, or US$56K – 84K; I think the likelihood is that she'll fall into that range once the top-up purchases via Backerkit kick in. For example, I intend to supplement my Fancy Pants Package (that's what it's called) with another five or so copies of the book, for gifting.