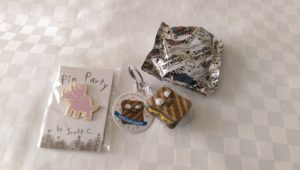 At the end of show hours I thought this was going to be a short post, but … well, you'll see.
Saturday was commerce, commerce, and more commerce, to the point that I didn't really get off the floor and and only had one good (albeit brief) circuit away from the booth. The Cards Against Humanity folks that have shared the Dumbrella booth have nearly sold their stock through and during the days closeout told us they want Andy and Rich to expand beyond their half of the booth so that they (CAH) can point their (CAH again) customers at their (Rich & Andy this time) stuff and hopefully sell a lot of it.
At the end of a show that is grinding and tiring, to take an approach other than Welp, guess we can pack up early and beat the rush, bye! is fundamentally generous; the game may be self-described as for horrible people but the people behind it are stellar. Thank you, Trin, Tom, Julia, Joe, and I know I'm forgetting other names because it's early and I was up late.
I've mentioned Jason Alderman on this page before, and not only is he an enthusiastic, wonderful guy, he's local. When he says So there's this really good place that'll take us a little while to walk to but we won't have to cross with the nerd herd coming out of the convention center and we'll probably get great food in us while the rest of the showgoers are still an hour from being seated at The Cheesecake Factory, you listen to him. There was a great meal and I'm not telling you where or everybody will get wise to his insider's knowledge.
But as I approached the counter to give my order, the young woman looked at my collar and saw the Mutant Pride pin that I've been wearing this week on my shirt's right collar¹. Her eyes lit up, then welled up just a little and she told me how much she loved it and wanted to know where to I got it. I pointed at Rich and said He designed it and started to mention his site and then figured it was still early on a Saturday night, she's in the middle of nightly rush, she'll never remember a URL or lose anything I might scribble a barely legible reference on and what the crap, there are still hundreds of them back in the booth.
So I unpinned it and handed it to her and her hands flew to her mouth and I legit thought she was going to faint. An entire silent story played out on her face, about what both halves of that pin meant to her personally; she'd been through her own version of hated and despised by a world that fears her, and one day she discovered mutants and they made her feel less alone.
Now she was in the shadow of the building where a tribute to the medium that made her feel a bit more whole was going on and she's working a restaurant job that probably doesn't allow her time to actually make the brief journey into the convention center and a skinny middle aged dude with a ridiculous moustache is giving her a badge that represents her. She told me it was the greatest day of her life; I believed her². I pulled Rich up the her register and I know he had more of his Pride stuff in his pockets that made its way across the order counter.
There it is — beyond the hassle and the scope and the seeming focus on everything except comics, a connection got made³ and somebody's day got better. It's tempting to read too much into this one brief experience, but it honestly reminded me that my view on capital-l Life is pretty incrementalist in nature; small changes and individual effort, when there's enough of them and over a long enough period of time, make big differences.
I'd rather rely on ten (or a thousand or a million) people doing one small good thing than hope that a single powerful person does something big and good, if only because it's harder to lose the hearts of ten (or a thousand or a million) people than it is to be disappointed by one4. Here's hoping I'm still holding onto this sunny weltanschauung at the end of the day.
Things To See On Sunday: I'm about to head to the convention center, hook up with Pat Race, and check out the Art Of Steven Universe panel at 10:00. Find your own way there, I don't want to get squeezed out.
Stuff To Get: Whatever's on sale. But I have to tell you about what's in the image up top. On the left is the Scott C triceratops pin, and on the right is further proof that I have the best friends in known space. Andy Bell has a new line of blind-boxed keychain danglers, little food characters. He opened up most of a case to find the one he based on me so he could give it to me. I've shown up in comics before, but this is the first time an artist has rendered me in 3D form. That little moustache-sporting toast is the coolest thing ever.
Cosplay: Bob and Linda remain popular (this guy had H Jon Benjamin's habit of starting Bob's sentences with Uh down to a science), Snape was excellent, and Larry & Gert from Skottie Young's I Hate Fairyland were killing it (for every possible value of it; I'm pretty sure there was a trail of corpses). The best photo I got all day was of our own Ferocious J with Wendy-as-Harley Quinn (he has a passion for Wendy's), but that was not the best cosplay of the day.
I didn't get a photo, but there was a group of five people dressed up as The Avengers done as fast food mascots, and it was glorious. Fortunately, J did hand me his phone, so I present to you Hashtag McVengers. Seriously, follow the hashtag, because no detail was too small. The wings on the side of Captain KFC's helmet were chicken wings. The Mighty Ronald's McMjölnir was a thing of beauty. Black Wendy told me they'd been a group of Mr Meeseeks on Friday and couldn't get ten feet without being stopped; on Saturday, they couldn't get five. Today, they're supposed to be an Archer group and I wager it will be top notch.
---
Spam of the day:
Find vehicle tracking devices
I think they're offering me a device that finds other devices that in turn track vehicles.
_______________
¹ I've been wearing last year's Pride Of The Resistance pin on my fleece for the past year, but for Con I've worn it on the left collar.
² Thinking back on it, that statement is both wonderful and awful.
³ And later, walking back to the hotel through the Gaslamp waaaay too late, another one got made. This involved helping a weaving-hard couple out for Party Times across the street when they lost forward momentum. He was dressed sharp and had slicked-back hair and Erik Estrada teeth. She had heels too tall for her current state and a dress that left little to the imagination. They were both maybe 25, 26.
She said I was cute5 and I asked But isn't your boyfriend jealous now? She shot him a look and said He hasn't locked it down yet, showing a ringless left hand. I shot him a look and said Dude. He protested She's been listening to that Rihanna song too much!
A heartbeat's pause, then I asked her Did he just say Rihanna? and she Mmm-hmmed me. I said You can do better and she Mmm-hmmed me again. I removed his arm from her shoulder, put her arm on mine for balance and told him Sorry, I have to help her find somebody that knows the difference between Rihanna and Beyonce. He shouted Wait, I meant Beyonce! How do you [middle aged guy, all looking like a Ben Folds fan] know about Beyonce? I looked at her and said He didn't and she Mmm-hmmed a third time. There on the streetcorner we made him promise that the ring would be obtained this week and I showed him the proper technique for getting down on one knee.
They aren't all super deep and meaningful and probably neither of them remember it this morning, but this particular connection was friggin' hilarious for at least two of us. I really hope Supertight Minidress Lady and Perfect Smile Dude make it work. Those crazy kids deserve it.
4 Case in point: I'm going to make you wait longer for the writeup of the Read Like A Girl panel on Friday because it's not bashed into shape yet.
5 She was very drunk, but possibly she's just spent the last couple days binging on Dream Daddy for the previous couple of days. What the heck, I'm dad age. Actually, that would be perfect reason for her otherwise inexplicable compliment, on account of I was talking with Dream Daddy director/lead developer Tyler Hutchison earlier that day about the wave of Tumblrteen hate directed at his team for making them wait a whole six days to get a game that had only been announced a month ago. OMG, they've waited forevvvvv-her-her-her it's so unfair.
Hey, Tumblrteens, that was me mocking your distress. Hutchison was actually very appreciative that you were so passionate about his game.