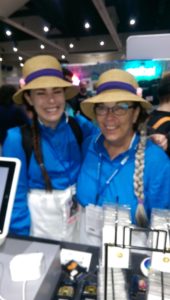 Let's just jump to the big news, yeah? Big Awards went to Ryan North and Erica Henderson for The Unbeatable Squirrel Girl (Best Publication For Teens), to Chip Zdarsky and Henderson / North and Derek Charm for Jughead (Best Humor Publication, which I am retitling Best Humour Publication in honor of Zdarsky and North), and to Raina Telgemeier for Ghosts (Best Publication For Kids 9-12).
Additionally, Jason Shiga's Demon took the Best Graphic Album-Reprint award, and the somewhat confusing split between Best Digital Comic and Best Webcomic were decided in favor (respectively) of Paul Tobin and Colleen Coover for Bandette and Anne Szabla for Bird Boy, which are strong choices. I'm pretty sure that everybody except Charm and Szabla has taken the spinny globe trophy before, but it's still got to be a hell of a thrill to be told whose company you are in. Some relevant photos here.
But that was all at the end of a long day; it started with the cash drawer in the Dumbrella register sitting just a little to high and preventing the drawer from opening, for a period of about 20 minutes at the start of the show. While the number of transactions requiring cash is way down compared to prior years, it's still something you've got to be able to do. It was eventually resolved with the aid of two people, one multitool, a screwdriver, a pair of scissors, and gravity. The offender was found to be — oh, betrayal so foul! — a Sharpie. Worse, one of those fake-ass retractable finetip Sharpies. It was removed (and, I believe, ritually destroyed) and then all was well again.
The floor didn't have much hold on me yesterday; I was out to the San Diego Central Library to catch the Read Like A Girl: Middle-Grade Fiction For Girls (And Boys), about which much more later when I have time¹; it's probably going to be as long as the editing panel writeup, and that was damn near 2700 words.

From the panel, I made my way straight into the Gaslamp, where Marian Call picked me up in her cross-country tourmobile so that we could make our way out to Santee, where I was providing light assistance (mostly merch-monkeying) for her show with Seth Boyer. The venue was a long, low, sprawling Unitarian-Universalist fellowship, where I'm told that Call's Something Fierce has been played on Sunday mornings to give the members an idea of what the show would be like.

I am being completely truthful here: if the Methodists had played Marian Call on Sunday mornings when I was a kid, I might still believe in the Abrahamic god.

The audience were mostly from the fellowship, and were uniformly polite, earnest, courteous, humble, and filled with gentility. They're Unitarians, so there were defiant prints in the foyer, the We The People series by Shepard Fairey and We The Resilient by Ernesto Yerena; like many churches, the members skewed older. They were enthusiastic, and have had Call and Boyer play for them before, and will again. Since the show last night was like number four out of seventy², there's an excellent chance you will be able to catch her between now and November, when she finally returns home to a well-deserved rest.

We returned back to the Con precincts and met up with a crowd that had taken over a fire pit at the Marriott — Pat Race and Aaron Suring, others from Juneau who were down to see the nerds, Scott C hung out for a while. But the highlight of the night — maybe of the show — came as I was getting a drink at a bar inside. I happened to glance to my left and see a graying³, ponytailed dude drawing.

I recognized the style and without thinking said Adam Warren? He startled slightly and said Yes? Then I told him I'd been reading his stuff since 1988 and always liked it, and that my only problem with his work on Empowered is that it doesn't come out often enough. He thanked me, I told him I wouldn't take up any more of his time, and then I bought his next drink because godsdammit, he's earned it.

Oh, and my wife texted me from the East Coast to say that Raina and Mark Siegel were featured in a story on this morning's Weekend Edition; audio will be posted later today, but for now just check out the fourth grade teacher that simply states The queen of my classroom is Raina Telgemeier.
Things To See On Saturday:
The BOOM panel with John Allison is at 12:30 in Room 24ABC, and Cartoon Art Musuem curator Andrew Farago talks to the likes of Gemma Correll and Melanie Gillman at 1:30 in Room 8. Box Brown's undoubtedly wrestling-heavy spotlight is at 3:00 in Room 4.
Stuff To Get:
Man, I dunno. I could kind of go for a sandwich.
Cosplay:
I saw this Batgirl and told her I was going to send it to Hope Larson and she squealed. Larson texted, and I quote, Yesss! She looks great. There were a lot of Bob-and-Linda combos on the floor, these being the best two I saw; Cards Against Humanity consigliere Trin was, coincidentally, dressed as Tina and was at the booth at the right time for one group photo (she also mentioned that her own parents were coming to the show dressed as Bob and Linda and I cannot wait to see those photos). And on the Crystal Gem front, there was a really good first-look Pearl, although she and I agreed we need to see more leather jacket wearing badass Pearl cosplay.
---
Spam of the day:
Unique True Wireless Earbuds With Amazing Sound
Man, I can't keep buds in when they've got cords on them. This is a blatant attempt to get me to have an earbud subscription.
_______________
¹ My rough transcript of the panel discussion runs 117 lines and I've got an early start today after a very late night.
² Maybe more? Email Call and tell her you can get a dozen people together and she'll pretty much add a show within an hour or two of wherever you live if it's at all practical.
³ We are actually about the same age and I have no illusions about what is happening upstairs.