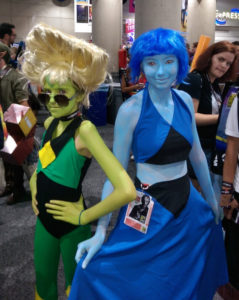 The thing about the floor at Comic Con is that you will run into people; people you know, people you're meeting for the first time, and sometimes those meetings just happen. Case in point: after the editing panel, I was making my way back to the floor with Chris Butcher when I remarked that — unusually — I had reached midday on Thursday without yet running into a single McCloud. At that very moment I looked up from the escalator we were on to the escalator we had just been on and locked eyes with Scott McCloud. When we all reached the lower there were greetings and up-catchings and McCloud shared some of the process he's working through.
If you hadn't known, his next book (from the sounds of its scope, it may have to be more than one) will be on Everything To Do With Visual Communications — type design to signage to nonverbal to everything Edward Tufte has spent four books on. It'll be one part Tufte, one part McCloud, one part Bringhurst, one part advertising design, one part the visual vocabulary of complex systems (think circuit design or architectural renderings), one part emoji, one part Burke, one part billboard design, and several parts that I can't even remember at the moment.
And because McCloud is McCloud he's digging deep and widely into many different areas of study, figuring that it takes at minimum a 10:1 ratio of what you need to know:what you can present on the page — not just because you need to know how all the stuff you aren't talking about works, but so that you understand the stuff you are talking about works so thoroughly that you can condense and simplify for a nonspecialist audience. He expressed a general amazement that the likes of Zach Weinersmith and Randall Munroe do this on the regular.
And once he was done with process, he talked about things that he's really grooving on at the moment and I told him that when I wrote about our conversation it would just read McCloud was smart at me for ten minutes. What the Understanding/Reinventing/Making Comics trilogy did specifically for comics, this is going to do for how we as humans communicate with our eyes. It's going to be beautiful, just as soon as he can stop finding interesting little asides that suddenly demand 40 pages of indulgence, which is honestly the best kind of problem to have.
Hey, everybody that hates paying for overly-expensive hotel wifi: Ask Ryan North for his secret method for getting that charge waived. It's not my story to tell because it really requires a certain ineffable Ryan Northness to properly express; it also may not work for anybody that's not as tall, handsome, Canadian, or Ryanesque, but I'm surely going to try it next time I travel.
It's been years that I've been coming to this thing, and the best part of any day on the show floor is always pointing people at work they wouldn't have seen otherwise, or getting to introduce people to other people.

Cases in point: I spoke to a woman who'd just bought a stack of books from Evan Dahm on the strength of a friend's recommendation; she explained that she's just now getting into comics. I told her to check out Augie And The Green Knight and BONE and made her promise to come back if she needed more to read. I was able (with the help of his able assistant Beth) to pitch Los Angeles resident Dave Kellett on the idea of getting Ursula Vernon to do a Tales From The Drive short story, and to introduce Pat Race to Becky & Frank. Connections, people, it's all about connections.
Things To See On Friday:
The San Diego Central Library is calling me for Handling Challenges: Bans And Challenges To Comics and Read Like a Girl: Middle-Grade Fiction for Girls (and Boys), at noon and 1:00pm respectively. LArDK will be talking Drive at 9:00pm (whaaaat) in Room 9, and Marian Call and Seth Boyer are playing in Santee at 7:00pm.
Stuff To Get:
Oh man, there's a Steven Universe 7″ vinyl that's up for sale at the Cartoon Network booth.
Cosplay:
In addition to everybody's favorite gem pairing¹ up there, you've got Steven rocking the shield. And when you can get a cosplayer to really get into character, you run with that; I prompted this young lady portraying Joy with Puppies! and Bing Bong's gone! and she killed 'em both.
---
Spam of the day:
Don't wait – Further Your Education at Liberty University
You mean the place founded by Jerry Falwell and currently run by Jerry Falwell Jr explicitly as a training ground for the lawyerly shocktroops for the movement Conservatives that want the US to be a Christofascist playground? Yeah, no.
______________
¹ Okay, I'm lying; we all know everybody's favorite pairing is Garnet. I did see two different amazing Sapphires on the floor, but couldn't get photos without obstructing the aisle from hell to breakfast, so you'll just have to imagine.