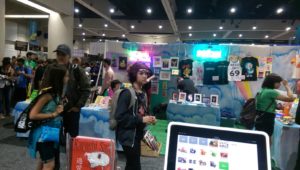 The story of Wednesday at Comic-Con can largely be recycled from year to year. The eerily empty halls, the slight bustle at registration through the first half of the day¹, the mostly orderly work of getting the booths in their desired configuration and seeing how the town itself transforms in the presence of nerds. One particular nerd near my hotel had enough fans in line early in the morning to wake me with their cheering from ten floors down.
This year's photos come with an added frisson of danger, though, as there were repeated announcements throughout the day about how photos and videos were not allowed to be posted prior to opening the show floors and exhibitors that did so risked ejection, Comic-Con does not allow the taking photos of the exhibit hall at this time. Which, yeah, was roundly ignored and I daresay prompted a lot more photo and video taking than would have ordinarily occurred. So good one, Mysterious Voice². I'm sure that whoever decided this policy was certain it would result in a massive bolus of social media postings just as soon as the crowds were let in, resulting in a bump of publicity. Had that happened, I'm pretty sure all the cell data and wifi in the hall would have fallen over.
But snippy and unworkable media control policies aside, Wednesday during the day is great on the floor, because it's your chance to get caught up with people that you won't have a chance to talk to for the next four days³. You've got the big booths that take a practiced crew much of the day to put together, you've got the smaller ones people can roll into an hour beforehand and figure out where things will go. Everybody's got their methods and somehow it all works out okay. In any event, it leads to awesome conversation and if you ever have the chance to chime in on a brainstorming session about what could happen in Squirrel Girl between Ryan North and Erica Henderson and get complimented that you really know your Squirrel Girl continuity, I recommend you do that.
Things To See On Thursday:
There's a panel on editing comics moderated by the invaluable Chris Butcher at 1:30 in Room 4 that looks interesting. Before that, John Hodgman — raconteur, podcaster, author, actor, TopatoCo client, and arbiter of justice — will have a brief signing at 11:00am, in the Penguin Book Group booth complex. It's listed as booth 1515, but has so many sub-booths that they are lettered A through at least G.
Stuff To Get:
Speaking of the Penguin booth complex, it's where I picked up a neat promo item for Kelly & Zach Weinersmith's Soonish, coming this October (and whose Kickstarter-access channel coincidentally wrapped yesterday; okay, that was really for the new book on the history of science (abridged), but you could get a copy of Soonish, which is probably why it raised over US$330K): origami paper and instructions to create a grumpy astronaut! Also in the photo: a ISPS Machito crew pin, gifted to me by Los Angeles resident Dave Kellett, and an absolutely genius design gifted to my by the very sexy Rich Stevens. Everybody that couldn't get a Pride of the Resistance pin last year because they sold out, he's got zillions this year.
Cosplay:
This Hawkguy looked great, and that was before we noticed he was carrying a coffeepot. Rich Stevens was so taken with the look that he sent a picture to Matt Fraction who replied with, and I quote, BROOOOO.
---
Spam of the day:
Wanna Watch me?!?!?
Much as I appreciate professionally naked people, your abuse of the interrobang offends me.
_______________
¹ With most attendee badges being mailed these days, you don't have the massive wave of humanity you used to get — it's for those that had problems or for some reason opted against mail delivery.
² The lady that used to serve at the Voice of Comic-Con has apparently moved on in life; this dude has no sense of humor when he states There is no running on the exhibit floor (evidence to the contrary aside). And the volume is still too loud.
³ Intermixed with the regular over-amplified admonitions Exhibitors, return to your booths. Aisle traffic will delay the opening of the exhibit hall. These announcements start around 10:30am.