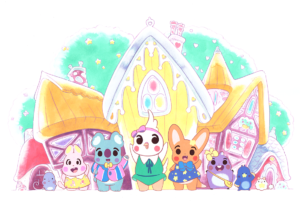 So, yeah, probably a regular post tomorrow (I've got a late flight) but for a solid week after that? Irregular as heck. Let's clear a few backlog items before the madness descends.
I'm three days late on this, but I wasn't going to let it go: buried in at the end of a discussion of Canadian literature being developed for broadcast is a line that could almost be overlooked:


FGF is also mid-production on a number of other screen adaptations of Canadian books, most notably Kate Beaton's picture book The Princess And The Pony and Jeff Lemire's graphica trilogy, Essex County.

I'm not sure what's more charming — the thought of Kate Beaton's wonderful story about believing in yourself (and also farts) arriving on the small screen (I'm figuring 30 minute animated special), or that identification of The Princess And The Pony as a Canadian book. Mark my words, Beaton will be regarded in the Great Northern Pantheon alongside Atwood, Davies, and Mowat. Everybody feel good for Kate!

Second, after too long a time¹ away from their many fans, Becky [Dreistadt] and Frank [Gibson] have returned to the webcomics game with Bustletown. Let's run down the criteria for Becky&Frankness:

The first sixteen pages of Bustletown are up now, with the next chunk of story dropping after SDCC; no word yet on how often it'll be released, or if there will be an RSS feed, but if you find you want to keep up with Bustletown, it's now listed over to the right in the link library. Everybody feel good for Becky and Frank!

It's been more than two years since Girls With Slingshots wrapped, since it started over again as [re-]colored strips with commentary. Creator Danielle Corsetto spent some time getting the final two print volumes produced & distributed, and she's been teasing us with the eventual color omnibus edition².

And, quietly (or at least as quiet as you can be when you're trying to keep things on the downlow amongst 1300+ Patreon supporters), she's been doing some marvelously revelatory autobio comics under the title 32³. There's everything there, from the ordinary to the deeply personal (although if you follow Corsetto's twitterfeed, you know that she's genetically designed for #TMITuesday, so personal is not really a problem).

Anyway, Corsetto has just opened up the formerly Patreon-only strips to public view, and they are excellent. The dozen in the archive so far (with updates approximately weekly) range from multi-page college flashbacks to four panels on the logistics of groinal grooming; they're all pretty damn hilarious, and any day with Danielle Corsetto telling a story from her life is automatically a better day than it would have been otherwise. Bookmark and read, and everybody feel good for Danielle!
---
Spam of the day:
Do you need to find a DNA lab for immigration?
No … and if I did, I don't think I'd use a lab that looks (from its advert) like it should be called Akbar & Jeff's DNA Hut.
_______________
¹ Including a suspiciously incomplete Capture Creatures print comic series; hey, BOOM!, since you're obviously uninterested in completing the series, hows about releasing rights that you're apparently squatting on and letting Becky and Frank complete it elsewhere? Or is the money that it would take to negotiate a fair rights reversion earmarked instead for giving away 1000 drinks at SDCC?
² Which, for once, I probably won't get. I've got the 10 original collections, most signed-and-sketched, and I'd hate to give them up. No room for both on the shelf, so I'm keeping the softcovers.
³ No, she's not 32, she's 36 as of this writing. Explanation for the title here and here