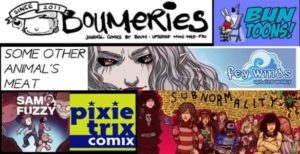 That would North, be the actual compass direction, and not North, Ryan, who although he comes from the northerly climes, we are not referring to at the moment. We will be shortly, however, because one will recall that Ryan North is one of the fabled three living embodiments of a Nexus Of All Webcomics Realities.
North (again, direction) because news has come of this year's Joe Shuster Award nominations, recognizing outstanding achievement in the creation of comic books, graphic novels and webcomics by Canadians, and named for the Torontonian co-creator of Superman.
The Shusters (like their co-Canadian awards, the Doug Wrights) have a narrower range of categories than the large American awards, and do damn good job of recognizing what makes a webcomic (or bande dessinées web, if you prefer) worthy of notice. Let's check out the 2017 nominees.
As in the past, the Webcomics Creator / Créateur de Bandes Dessinées Web has drawn from a wide variety of forms and story types, and this year is no exception. The seven nominees are:
There are webcomics types in other categories, too. For example, Writer / Scénariste includes nods for Ryan North (Squirrel Girl, Jughead), Bryan Lee O'Malley (Snotgirl), and Chip Zdarsky (Howard The Duck, Jughead)¹. Lagacé also got nominated for Cover Artist / Dessinateur Couvertures (mostly for Archie titles, but also Jem and Street Fighter), alongside Ramón Pérez² (again for multiple Archie titles, but also Hawkeye and Nova).
Lagacé also pops up in Artist / Dessinateur (Archie again, Betty Boop, Die Kitty Die), with Stuart Immonen³ (Empress). And The Dragon Award (Comics for Kids) / Le Prix Dragon (Bandes Dessinées pour Enfants) includes Faith Erin Hicks for The Nameless City (so, so good).
The awards will be presented the first weekend of September, with time & venue to be announced on 30 July; Fleen wishes the best of luck to all the nominees. Except Zdarsky. He knows why.
---
Spam of the day:
Best Payday Lenders Services
Payday loan firms are the absolute closest thing to a completely parasitical business model, existing only to heartlessly exploit whomever they get their hooks into, so I most sincerely and politely invite whoever sent this to me to reconsider their lives and perhaps find something more worthwhile and less reprehensible with which to occupy themselves. May I suggest aimlessly rolling around in an open sewer full of broken glass?
_______________
¹ Also Tragically Hip frontman/Canadian living saint Gord Downie, for Secret Path, a graphic novel illustrated by Jeff Lemire to accompany the album of the same name. Secret Path is the story of Charlie Wenjack, a First Nations boy who escaped from Canada's residential school system and died trying to make his way home.
² I still believe in my heart that Kukuburi will continue some day.
³ Some of us still remember Moving Pictures, done with wife Kathryn Immonen, taken down because pirates suck.