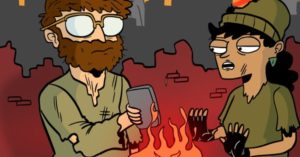 It's not that there's nothing going on in the Wide, Wide World o' Webcomics¹, but we are in a momentary summertime lull before SDCC² and the rest of the major con busy season. I mean, I could point you towards the updated tour dates for Meredith Gran³ and Mike Holmes — in fact, I think I will — but there's only so much of your time I can occupy there. Or you could take five minutes to watch the second episode of animation from The Nib, that works.
Done? Okay, let's make fun of spammers and see what crops up between now and tomorrow.
---
Spams of the day:
Bonus! $350 after your first 150 rides driving with Lyft!
Figuring that any ride will take the drive a minimum of 15 minutes (from notification until drop-off), US$350 for 37.5 hours labor, or less than US$10/hour. Minus gas, insurance, and the rest? I think you actually come out negative on this deal.
Some DNA testing can be done from home
I did one of those home DNA spit tests once, on account of being adopted, I was sick of telling my doctor I didn't know if there was a family history of various diseases. Still don't know, but I am reliably informed that there's a 68% change that I'm obese based on my genes. I am a super-skinny dude. I'm starting to regret not doing what I seriously thought of doing at the time, which was to let my dog drool into the collection tube just to watch the lab freak out.
[New SMS] You Received a Glance from Gelya (from Kazan, Russia)
I have received roughly thirty-seven variations of this spam with different combos of name and Russian city. Apparently, Russian mail-order brides really dig me.
Confirm Your Account with us
This one's great — a big graphic that says ACTIVATE YOUR ACCOUNT in block letters, not even bothering to make up a lie about which account or with what company. Balls nasty.
Garytyrrell 2 messages marked as unread disobeys
Oh, no, the Facebook account I don't have is threatening me for leaving messages unread.
Vital to Your Wellness: Good Dental Health
Not to brag, but I just went to the dentist on Saturday and she told me my hygiene was excellent. I like my dentist, she is quick and painless.
Juicy Couture Tracksuits
Nnnnooope.
Knives that are too large are very impractical and tremendously difficult to control. Ecclesiastes 12:17 (The Message) Old King Solomon said it all
King Solomon used swords; I don't think he was overly concerned with a knife being too large.
I'll immediately snatch your rss as I can't in finding your email subscription hyperlink or e-newsletter service. Do you've any? Please allow me recognise so that I could subscribe. Thanks.
I think I just got sexually harassed.
_______________
¹ There's not a good visual for the agony of defeat in webcomics, so please accept the original instead.
² Programming details coming soon!
³ Octopus Pie volume 5 (final!) out now!