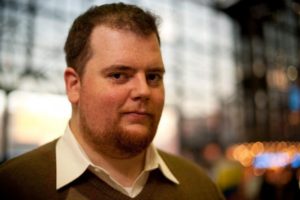 Know what else is awesome? One of the greatest, most enabling guys in [web]comics, Christopher Butcher, is getting a new job. He's been great at managing one of the best comics shops in North America, and he founded one of the great comics shows in the world. Now he gets to hunt out new talent in North America and Japan, and Publishers Weekly has the story:
Chris Butcher, longtime manager of The Beguiling comics bookstore and founder and artistic director of the Toronto Comic Arts Festival, is leaving The Beguiling and has been named a consulting editor-at-large for Viz Media.

In this new consulting role for Viz Media, Butcher will scout acquisitions and new talent and new publishing projects, while splitting his time between North America and Japan. In addition Butcher will also scout for original non-Japanese comics projects.
It couldn't happen to a nicer, more qualified guy. Congratulations to Butcher, and to Viz for recognizing skill when they see it.
In other news:
There's, uh, not a lot extra to say about any of those. Enjoy 'em.
---
Spam of the day:
Search free coupons for toilet paper discounts
How much toilet paper do you think I use?