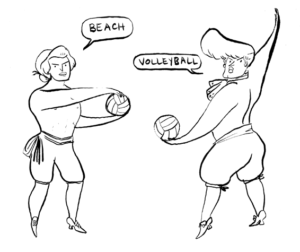 Because there must be things going on that are more cheerful than the death of the American institutions of self-governance. Perhaps our neighbor to the north can help.
Oh my goodness, has anybody told Kate Beaton about this yet?


There may be volleyball and Val Kilmer in Top Gun sequel

This is the best news. Nobody, and I mean nobody, appreciates beach volleyball like Kate.

Speaking of Kate Beaton, word came yesterday that she and a bunch of other (all Canadian, at least for now) comics artists are getting a new line of beautiful new prints from Toronto's Papergirl Press. The Pushpin launched with more than a dozen artists, existing art and new originals, nearly 50 different pieces in all. Prices range from US$15¹ (for 5 x 7² King Baby designs) up to US$150 for a poster-sized screen-printed artists proof of a Michael Cho Batman design³.

The creators represented by Pushpin (from [web]comics you have your Ryans North, your Chips Zdarsky, Kagan McLeod, Jeff Lemire, Johnnie Christmas, and Valentine DeLandro; illustrators include Chloe Cushman, Christian Northeast, Dani Crosby, Julia Breckenreid, Sarah Lazarovic, and Jay Dart aka Granduncle Jiggs) have all been enthusiastic on the sosh-meeds about how thrilled they are with the new endeavour, so it's fair to say that unless Pushpin becomes sudden so popular that they can't keep up (or Canada Post decided to mutilate all the packages in shipping), your choice of Fine Art For Your Walls should bring you pleasure.

Just please, despite the name, do not affix these to your wall with actual pushpins. They deserve better than that.
---
Spam of the day:
28?Hot Girls and Their?Pets
Uh-huh. Let's not.
_______________
¹ With the option to purchase in Canadian dollars or Euros as well.
² Or 12.7 x 17.8, if you prefer centimeters to inches)
³ This is a rare piece not produced by Pushpin, and limited to existing stock. The in-house items are all giclée on heavy cotton-rag paper.