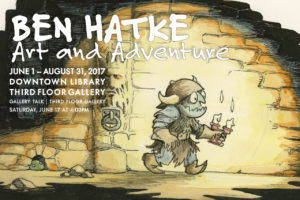 Dunno about you, but for me this first weekend of June is gonna be all-EMS, all the time. It's time to get smarter and practice the skills you hope you never need, which is a time-consuming process. If you have anything to announce between now and Monday, maybe drop me an email or I'll probably miss it. What kind of anything? Oh, you know, new comics, appearances, that sort of thing.
New comic! Maybe nobody has had a hand in more different webcomics — and certainly more updates, given that mezzacotta has an update in its archive for damn near every day from the Big Bang until today¹ — than David Morgan-Mar (PhD, LEGO®©™etc), and since he wrapped up Planet of Hats a few months back, he's obviously ready to start another².

Thus, a note at the bottom of Irregular Webcomic t'other day about the next project:

Eavesdropper is a new, original webcomic story.

It is a collaboration between Darths & Droids authors Andrew Shellshear and David Morgan-Mar. Andrew is writing the story and David is drawing the artwork.

The comic will launch on Wednesday 14 June, 2017, and update weekly every Wednesday.

That's all we know so far. And since Morgan-Mar himself is about to embark on a couple weeks overseas travel with limited email access, that's all we're going to know until just before Eavesdropper, uh, drops. Morgan-Mar's art chops have come a long way since he decided to learn how to draw, and given his tendency towards paronomasia (look it up), there's a better than even chance that the title refers to clumsiness around actual roofing features.

Those in Ann Arbor, Michigan have a treat in store at the Downtown Library: an exhibit of Ben Hatke's original artwork launched yesterday and runs through 31 August, in conjunction with his upcoming appearance at Ann Arbor Comics Art Fest (formerly the Kids Read Comics Festival). A²CAF³ runs Saturday and Sunday, 17 and 18 June, at the Downtown Library, and is free and open to the public.

Hatke will be featured at a reception on Friday the 16th from 6:00pm to 8:00pm, and again at a Q&A on the 17th at 4:00pm. On the off chance that the firebreathing creator of Zita the Spacegirl, Nobody Likes A Goblin, Mighty Jack, Little Robot, Julia's House For Lost Creatures (and much more) doesn't catch your fancy, A²CAF will also feature appearances by Zach Giallongo, Kean Soo, Katie Shanahan, Lee Cherolis, Raina Telgemeier, and many more. Did I mention that it's free? It's free.
---
Spam of the day:
PORN SURVEY Hi, my name is Jessica. Im the Head of the User Experience Department for this site. Please answer these 4 short questions to help us make this site better –
The only question I'll answer is what my favorite PornHub search term typo is: lebsiam, because it's actually two typos in one. Which, come to think of it, is probably a porn genre for spelling nerds.
_______________
¹ Okay, technically as far back as 1 January 9999999999999 BCE, which is about 73% of the way to the Big Bang. Close enough.
² He's the embodiment of the notion that it's not hard to come up with ideas, it's hard to find the time to act on them.
³ That's A-sqaured, not a footnote.