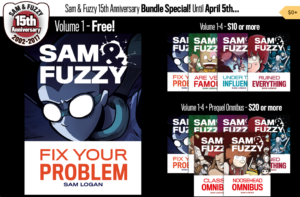 Two tweets of interest, from Sam Logan:
15 years of Sam and Fuzzy! That's a long time on the internet. 3 years older than YouTube, 2 older than Facebook, 4 younger than Google.

Today is Sam & Fuzzy's 15th birthday, but I got YOU a present! It's a free e-book copy [of] Volume 1. Spread and enjoy! http://gumroad.com/samandfuzzy
Fifteen years is forever in internet times. To give you an idea of how much Logan is giving you, each of the first five collections are normally US$9. Bonus: as part of the anniversary special you can get volumes 2-5 for US$10 or more; for US$20 or more, you also get the giant omnibuses that comprise all of the first thirteen years of the strip. If you haven't read Sam & Fuzzy, this would be a good (and economical!) time to start.
---
Spam of the day:
Kära företagskund, Du har fått en ny anmälan. Klicka här för att läsa.