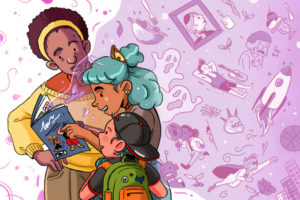 In case you hadn't seen it, NPR Books is compiling a summer reading list, with an emphasis on comics and graphic novels, and they want our¹ input! Even better, they acknowledge the existence of webcomics
What can you nominate?

Long-running series comics: Choose a distinct story arc or a well-known run by a particular writer or artist. So, rather than just nominating The X-Men, pick something like the Dark Phoenix Saga. Or if you like Matt Fraction (and who doesn't?) you could nominate his run on Hawkeye.

Single issues: Because we know someone's gonna be mad if we leave out Action Comics #1

Graphic novels and trade paperbacks: Persepolis, The Invisibles vol. 2, Blankets, a single volume of your favorite manga — if it's available in a standalone form, have at it!

Newspaper comics: May be nominated as a whole. Get your Bloom County on!

Webcomics: May also be nominated as a whole. [emphasis mine]
But don't go totally crazy; they ask that you limit yourself to five choices, which is gonna be hard. For me, I think I'm going to go with Drive by Los Angeles resident Dave Kellett, Octopus Pie by Meredith Gran, Motor Girl volume 1 by Terry Moore, Ghosts by Raina Telgemeier, and … argh. Vattu? American Born Chinese? The Last Halloween? Hark! A Vagrant? Finder: Third World? Usagi Yojimbo: Daisho? Starman Omnibus volume 6? Be a complete dick and suggest the entirety of Homestuck, but especially Sweet Bro & Hella Jeff?
I think it's gonna have to be The Great Outdoor Fight. What do you think people should be reading this summer from the world of web/indie comics? NPR will only take the top 100 suggestions for the official list, but we can suggest any damn thing we want to amongst ourselves; drop your comments at the link below.
---
Spam of the day:
1 Weird Trick I Wish My Ex-Boyfriend Knew (Uncensored)
This is gonna be something with goji berries and açai, isn't it?
______________
¹ In the sense of anybody that can fill out an online form; Fleen readers aren't, in this case at least, special.