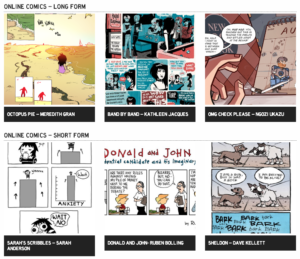 Lotta signing creators going to be happening at the end of the week/start of next, mostly in conjunction with the NCS Awards weekend extravaganza, this year touching down in Stumptown, USA. I can't recall a similar event happening at NCS gatherings in the past, but Portland is a pretty comics-intensive town so if this were going to be introduced, it makes sense to do it this time out.
Los Angeles resident Dave Kellett will be repping webcomics at the big signing event on Sunday from 1:00pm to 4:00pm at the Hilton Portland, 'long with other independent creators like Andrew Farago of the Cartoon Art Museum, Scott Kurtz, and Shannon Wheeler. The fact that most of the signers will be syndication types shouldn't keep you from going if you're in town; I met a lot of them the year I went to the Reubens Weekend and they are almost exclusively really funny and cool people¹.
Along the same lines, Meredith Gran will be signing on Friday evening, at Portland's Books With Pictures, from 7:00pm to 9:00pm. Gran, one may recall, lived and worked in Portland for a couple of years some time back, and also happens to be nominated in the Reubens for Online Comics — Long Form (along with Kathleen Jacques and Ngozi Ukazu). Speaking of which, today's Octopus Pie appears to open the possibility that the imminent conclusion of the strip will end with the earth swallowing all the main characters. Perhaps Eve will become monarch of Brooklyn Below? I'd be cool with that.
And bringing things back around to the start, LArDK is also appearing in Portland in conjunction with his own nomination for Online Comics — Short Form (along with Sarah Andersen and Ruben Bolling²). Best of luck to all the nominees, and have fun in Portland. Tell everybody I said hi.
---
Spam of the day:
Discover the Lowest Rates for Burial Coverage
Pffft. I'm gettin' shot out of a cannon and covering a wide area in my essence. REVEL IN IT, PEASANTS.
_______________
¹ Pretty sure the one guy who was a dick to Jon Rosenberg is dead now.
² Who may have an unfair advantage vis-a-vis his name.