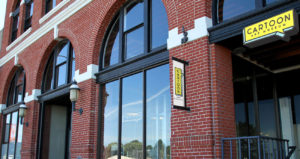 If there's one thing that we at Fleen have learned over the years, it's that Andrew Farago and the crew over at San Francisco's Cartoon Art Museum are always planning their next thing, and the thing after that, and the thing after that. For those of you looking to plan our your summer activities in the Bay Area, consider the following:
The annual summer cartooning bootcamp returns for 2017, this time in the form of three weeklong workshops running half days from June to August. While they put the polish on their new gallery location (at the historic Fisherman's Wharf), the camp will take place at the American Bookbinders Museum, 355 Clementina Street. The camps are intended for kids 10-15 years old, with basic drawing skills to build on. Sessions will run Monday through Friday from 1:00pm to 5:00pm, at a cost of US$300 per session (US$50 discounts to CAM members).

The first week will be 19 to 23 June, the second 26 to 30 June, and the third 31 July to 4 August, with more information at the CAM Progams page. Up to five scholarships for underserved students are being offered to each week by the nonprofit Yerba Buena Community Benefit District; registration and scholarship applications are online now. O

The classes are taught by Ellis Kim of Time Fiddler, and will range from designing characters to writing and drawing a complete story. Each week is independent, but attending multiple weeks will allow students to further develop their skills.

Meanwhile, submissions are open until the first of June for the first annual Prism Awards to recognize LGBTQAI+ comics and creators, with winners announced at the CAM-presented Queer Comics Expo. Categories for the Prism Awards will include Best Short Form Comic (a full comic), Best Webcomic (initially/primarily published online), Best Comic from a Small to Midsize Press (as self-determined by the applicant), Best Comic from a Mainstream Publisher (ditto), and Best Comic Anthology (a collection of shorter works created by at least three different authors).

All work should be less than two years old, no submissions (except Anthology) should be longer than 32 pages (and Short Form must be complete, not an excerpt), and submitted in PDF format. They're only set up to judge comics in English this go around, but look for expansion in future years. There's no fee, but also no monetary prizes — just the celebration of the community. Needless to say, read the entire submissions page before you send anything off, and if you don't happen to be LGBTQAI+? I'ma say sit this one out — the rest of the world is there for you.

The Queer Comics Expo will run 8 & 9 July, 11:00am to 5:00pm, at the SOMArts Cultural Center, 934 Brannan Street in San Francisco. Discount advanced tickets are available for purchase now.
---
Spam of the day:
Your frequent customer ID came up for a Complimentary $50 Target® charge card
I think that's pretty unlikely.