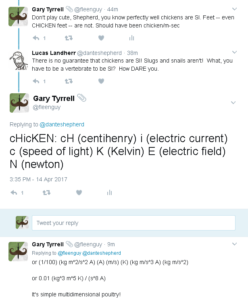 See I'm about to go camping in the woods with bears weirdos a whole bunch of creative people (and totally bears), which is going to make things here at Fleen a little irregular for a bit starting middle of next week. In the past when away, I've scheduled Best of Fleen posts, but you know what? Y'all approximate grownups, and you can manage without me for a bit. So here's what's going to happen from next week:
Wednesday will likely be brief, due to last-minute around-running. Thursday will largely be taken up with travel from New Jersey to Juneau. Friday will be helping with school & library visits, Saturday will be the actual one-day con, followed immediately by woods, s'mores, and no electronic signals of any kind until sometime the following Tuesday. Wednesday and Thursday will be travel and recovery. But expect a mountain of posts after that about what wildly creative people (both in and out of comic) are up to. Kindly try not to have any huge news in or around webcomics while I'm gone and try not to let the world end. Deal? Deal.
In the meantime, I'll note that Alaska is similar to Canada in many ways, and Canada (the whole damn country) has announced the latest nominees for Canada's most prestigious comics recognition, the Doug Wright Awards (well, probably tied with the Joe Shuster Awards). Winners will be announced (as is custom) at TCAF in four weeks, and will be blessedly limited to three well-curated categories plus one hall of fame.
The Best Book Award, presented for the best book published in Canada (in English), will go to one or more of Mary Wept Over the Feet of Jesus by Chester Brown, Big Kids by Michael DeForge, Burt's Way Home by John Martz, The Envelope Manufacturer by Chris Oliveros, and Bird in a Cage by Rebecca Roher. The Doug Wright Spotlight Award, presented to a Canadian cartoonist deserving of wider recognition, will go to one or more of Jessica Campbell, GG, Nathan Jurevicius, Laura Ķeniņš, Brie Moreno, and Steve Wolfhard.
The Pigskin Peters Award, presented for the best experimental, unconventional or avant-garde comic, will go to one or more of Carpet Sweeper Tales by Julie Doucet, Draw Blood by Ron Hotz, Garbage by Matthew Reichertz, After Land by Chris Taylor, and The Palace of Champions by Henriette Valium. The inductee into the Giants of the North Canadian cartoonist hall of fame, is cartoonist and comics journalist Katherine Collins. Seemingly every other nominee¹ was published by Conundrum Press, Drawn & Quarterly or Koyama Press, highlighting the importance of small, editorial vision-driven presses.
Fleen wishes the best to all the nominees, and we'll be back in a month to reveal the winners.
---
Spam of the day:
Save on your interstate move – free quote
After the last move I made — which was a year and a half before I started this blog — I swore to never move again, and that was less than 30 km distance. If I ever have to move interstate, kill me.
_______________
¹ It was actually 10 out of 16, which is even more impressive. The remaining work was self-published, or run via Floating World Comics or via the Latvian comics anthology kuš!