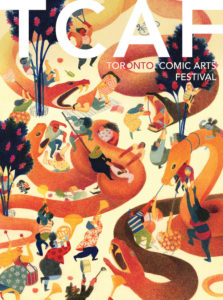 The thing about Chris Butcher is, is not only is he the nicest guy in comics (my liver will attest to his legendary generosity when proximal to a bar), not only has he helped run two of the greatest comics stores in the world (although one was recently closed by the forces of condo development), he is the driving force behind TCAF, which has become the destination for the serious side of comics.
Case in point: this year's show (13 and 14 May 2017) will encompass three locations. The main events will return to the Toronto Reference Library (789 Yonge Street in Toronto), with satellite programming at the Marriott Bloor Yorkville (also the official show hotel, 90 Bloor Street East) and the Masonic Temple (which these days is a performance venue, 888 Yonge Street). If that weren't enough there will also be an associated academic conference (The Canadian Society for the Study of Comics/La Sociéte canadienne pour l'étude de la bande dessinée) on the 11th and 12th, and a day full of professional programming for librarians and educators also on the 12th.
Special guests will be coming from across Canada and the US, as well as from Italy, France, the [U]K, Croatia, Norway, Denmark, Japan, and Vietnam, with some 400 exhibitors turning the TRL into the coolest place in the Great White North for the weekend. Anniversary celebrations will be held for publishers Koyama Press (10 years), 2D Cloud (10 years) Image Comics (25 years), and NBM Publishing (40 years), along with a special pavilion of German comics and creators (which will continue with the biannual Comic-Salon Erlangen in Germany). And debuts! There will be book debuts from Canadians Jillian Tamaki, Guy Delisle, and Jeff Lemire, along with debuts of books about Canada from at least three (I lost count, to tell you the truth) international artists.
Did we mention that Butcher likes webcomickers? Webcomics types at the show will include Becky Dreistadt & Frank Gibson, Sarah Becan, Kory Bing, Hannah Blumenreich, Box Brown, Danielle Corsetto, Gemma Correll, Evan Dahm, Blue Delliquanti, Gigi DG, Meredith Gran, Faith Erin Hicks, Mike Holmes, Amanda Lafrenais, Pascalle Lepas, Boum, Matt Lubchansky, Mike Maihack, Maki Naro, Diana Nock, Rosscott, Ryan North, Mad Rupert, Ngozi Ukazu, Ru Xu, Sophie Yanow, whoever TopatoCo brings, and the zubiquitous Jim Zub.
We haven't even seen the programming tracks yet.
And for all of this, what treasure does Butcher demand of you? What prize is worth it to be around this much pure comicking goodness? Not one thin Canadian dime. As in all past iterations, TCAF is free and open to the public, so get yourself to the T-O the second week of May and get to wandering. Chris'll be sure to say hi if he sees you.
---
Spam of the day:
We can write any paper on any subject within the tightest deadline.
Dude, I handled the non-nerd parts of my college career with aplomb. By this time tomorrow I can bang out 8 – 10 pages on anything from the parallels between Pseudolus and Animal House to why the most significant driver of the quick victory in the first Gulf War was not smart munitions or stealth, but improved communications technology¹. Why on earth would I pay you to do it?
_______________
¹ Also how All Quiet On The Western Front is essentially a precursor to yaoi fanfic, being composed mostly of gay porn. I actually wrote the beginning of that one and submitted it.