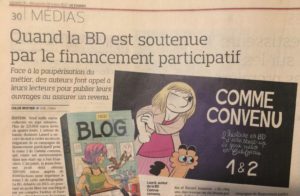 I know you've been anxiously waiting since I announced it yesterday, so let's give it up for Fleen Senior French Correspondent Pierre Lebeaupin!
It's all about crowdfunding today.
First, Laurel launched the campaign for the second (and final) volume of Comme Convenu. No FFF estimate, because:
I missed the 24 hour mark and
The beginning was so explosive (reportedly being funded in minutes) that from the look of things it would have predicted a 200-300% campaign-over-campaign increase, which while it remains possible, I don't feel confident predicting at this time.
Nevertheless, at US$308,796 with 15 days left (2998% of goal) at press time, the campaign is well on track to blow away the total of the previous one: $294,666. [Editor's note: Lebeaupin submitted his piece well prior to press time, and so his prediction has become self-evidently fulfilled.]
Given the imminent launch of the new campaign, Laurel wrote a retrospective of the first one, with a number of interesting production tidbits. In particular, while most books were directly sent from the printer to the France-based distributor she hired, she also had 1000 books be sent to her in the U.S. so that she could sign 700 of them, then send those to the distributor in France by plane. It is one aspect she intends to avoid for the second volume, where she will sign on a separate sheet.
Laurel also took this opportunity to remind us about an explainer on crowdfunding she drew just prior to the first campaign. Nothing long-time Fleen readers are unaware of, but one aspect she mentions is in fact specific to Ulule and KissKissBankBank: for those, pledges are in fact debited at the time of the pledge (though not remitted to the creator yet), and refunded if the project later fails to meet its goal. This is different from the system used by Kickstarter for instance, where at that time the pledger only provides a temporary authorization for an amount to be debited, and nothing gets debited if the project fails.
Both have their benefits and drawbacks: for instance, in the latter case the payment method might have become invalid by the time the campaign ends, which means Kickstarter has to message the pledger for him to provide an updated payment method and allow him some time to do so (it happened to me once when my credit card expired); this in turn impacts when Kickstarter is able to wire the funds to the creator.
And on the occasion of the new campaign, Laurel has been featured, along with Maliki, by France's oldest extant newspaper, Le Figaro, in an article about crowdfunding of comics in France (also available on the web)¹. Chloé Woitier knows the subject, her article avoids the tired Comics on the web! Without a publisher! Who knew? trope and is very informative, even if unsurprising to someone in the field.
The article does warn, supported in that by a quote from Maliki, that newcomers still can't use crowdfunding to go around publishers when starting out, as both her and Laurel's successes are undoubtedly related to the existing reader base they accumulated from their long-running comic blogs (during which they were supported by publishing contracts, related or not, or another job). But if this correspondent might add: how long until sequential art students are made to maintain a webcomic as part of their curriculum, and thus are able to start their career with an existing reader base? Not long, I'd wager.
And in completely unrelated news, Team Maliki just moved to a new house with proper studio space. A move less protracted, but just as entertaining as Jam's Office Saga.
As always, Fleen salutes FSFCPL and thanks him for his rigor and attention to detail.
---
Spam of the day:
Eat THESE 2 Foods to regrow hair in 19 daya
Firstly, got plenty of hair, thanks. Secondly didn't realize there was more than one Daya.
________________
¹ Preceded by another article (web-only) in the tech section, focusing on the other side of the picture of Silicon Valley that Laurel tells about in Comme Convenu.