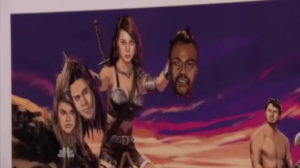 Also, a Spam of the day with a blockquote in the reply. Everything is upside down today.
We are coming up on a barn-burner of an anniversary in webcomics; over the next couple of years we'll see it repeated, but this is the first one. Jon Rosenberg¹ may try to imply that Goats only became acceptably good about the time he went to color full time, and that no comics existed prior to the end of 2003. Au contraire, mon frère! Goats was birthed of frustration and spite boredom and not a little beer on 1 April 2007 1997, or just about twenty damn years ago.
[Thanks to alert reader maarvarq who caught my typo; I blame it on the fact that while Goats could be nearly 20 years old, it couldn't be from 1997 because that would make me old.]
Thanks to the magic of the Wayback Machine, we can share that first strip (I will spare you what the site looked like back then). It's been nearly seven years that the story has been on hiatus (what with Rosenberg working on SFAM, winning NCS awards, and figuring out how to end a story when the inspirations for same have radically changed².
Not that that's stopped him, I mean:
I'm almost done inking and I gotta say I forgot how much fun making Goats was. This is okay. I can do this occasionally.
Yep, Goats is back, and the worlds-spanning weirdness has an end envisioned. But in the meantime, celebrations must be had:
I'm doing a 20th comicsversary thing at a pub on the 31st. Come celebrate with me! https://www.facebook.com/events/1625658347448520/ …
That would be the Peculier Pub in Greenwich Village, where Goats was born and where so much of it took place. It'll be the very last day of the 19th year of the strip; for those that hang around until midnight to ring in Year 20³, don't forget that the next day is the start of MoCCA Fest 2017; I find that synchronicity to be pleasing. Fun starts at 6:00pm, and there will (needless to say) be booze. See you there.
Update to add: New Goats strip! What may be the longest webcomics hiatus (and our non-Trump related national nightmare) is over!
---
Spam of the day:
The Black Eyed Peas Debut Original Graphic Novel, MASTERS OF THE SUN – THE ZOMBIE CHRONICLES
I'm with Ms Ludgate in my general opinion of BEP, and also Mr Nathan Rabin of The AV Club, who dubbed them:
[E]ssentially a four-person advertising agency flimsily masquerading as a pop group. Think of them as the distinguished firm of Hologram Man, Meth Lady, The Other Guy, and The Other Other Guy, Inc.

After discerning the most irritating possible melody imaginable, Will.I.Am then moves on to the next step in the songwriting process. He heads down to the lyrics lab of Hologram Man, Meth Lady, The Other Guy, and The Other Other Guy, Inc., where scientists with clipboards monitor crazy homeless men around the clock and write down their most annoying patter. Once the most irritating possible melody is married to the most obnoxious conceivable lyric, the song is given to Fergie and the horrible-ification process is complete.
______________
¹ Obligatory disclaimer: the reason that this blog exists, and guy that pays for my hosting (if no longer my beer).
² Not the least being the births of his three children, including twin boys from a high-risk pregnancy that necessitated some fairly extensive physical therapy. He's basically not slept in the past six years.
³ Just one more year and Jon's cartooning career can legally drink.