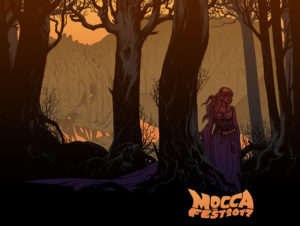 Yeah, yeah, I know everybody's living it up in Seattle, what with the many, many webcomickers and Ass Swordsman Tetsuo sketches and all, but have you considered the fact that we're just a month away from MoCCA Festival 2017 in New York City?
The weekend of 1-2 April, from 11:00am to 6:00pm is when, the Metropolitan West event venue (mere steps from an actual damn aircraft carrier with an actual damn space shuttle) is where¹ — a venue with some pretty decent food options, bee-tee-dubs — at a cost of five friggin' dollars a day. For that you'll get the best comics artists on the coast (always a well-curated mix of familiar standbys and new talent²), and Guests of Honor including Cliff Chiang, Becky Cloonan, David Lloyd, Blutch, Drew Freidman, and some guy named Gene Yang who's supposed to be a genius or something.
Programming's not been announced yet, but traditionally MoCCA have GoH spotlights, some smart people doing profile-type interviews, and no conflicts — every panel runs in a unique timeslot to avoid having to choose who to see talk at a given time. It's usually six or so panels on each of the two days, meaning the only thing keeping you from seeing every panel is how much time you want to spend on the show floor.
Webcomicky types due to table at MoCCA include Bill Roundy, Carey Pietsch, Evan Dahm, Josh Neufeld, Julia Gfrorër, and slates of creators from :01 Books, the Center for Cartoon Studies, and Top Shelf/IDW.
As a bonus, the Festival will almost certainly not catch fire. I'll see you there — I'll be the guy with the notebook and the moustache.
---
Spam of the day:
XXX__PPOORRNN WATCH HER GET F**CKED IN THE A$$
I'm not sure I understand the gist of your offering. It's mysterious and too subtle to be understood.
_______________
¹ Sessions will be held in the nearby — and gorgeous — Ink48 hotel, 11th & 48th.
² I met nascent superstar Rosemary Valero-O'Connell there last year, let's not forget.