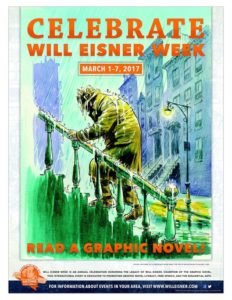 EmCity will be kicking off in a few hours, with toutes les webcomiques in attendance. Some of us never quite get to go, but that's okay; we at Fleen are not bitter. For those that don't get to explore the Washington State Convention Center this weekend, but who do find themselves on the Left Coast (specifically, the San Francisco Bay area) come Monday, there's stuff going on in observance of Will Eisner Week¹ from our friends at the Cartoon Art Museum².
Specifically, you'll find CAM over in the space of Comix Experience (305 Divisadero Street, SF), celebrating the centennial of Eisner's birth from 5:00pm to 8:00pm:
Birthday activities include making party hats out of comic books, games including "Pin the Fedora on the Spirit," and Will Eisner trivia. A spirited selection of birthday cupcakes will be provided!
Cupcakes! Activities! Fedoras in a non-horrible context! Best of all, the event is free and open to the public, but I'd wager there would no complaints if you donated a few bucks to help CAM's mission/ongoing moving expenses. Or, for that matter, if you picked up one of Eisner's many excellent graphic novels, or a collection of The Spirit from the height of the strip (call it 1946 to 1948, when Eisner returned from World War II and resumed direct creative control from his assistants³).
---
Spam of the day:
SqrtnAmy16 Sent You This Message: "Well, hey there! Young and energetic cutie here looking to continue exploring my wild side with a new man.
I don't think I get your username, square root of (n) Amy. Are self-described hot-and-horny sluts really that into math?
________________
¹ Which is already underway; it runs from 1 March (yesterday) to 7 March (next Tuesday). Eisner was born on 6 March 2017.
² Whose relocation into new, permanent gallery space is so close we at Fleen can practically taste it.
³ Who included the likes of Jules Feiffer and Jack Cole.